The Antognolla Castle above the Golf Club
The Antognolla Castle above the Golf Club
An 18 hole golf course is within the Estate
View of the Estate from the golf course
This unforgettable golf course in set in the valleys
Breakfasat with view over the Murlo hills
The surrounding landscape is breathtaking
Trails and pathways allow you to stroll through the surrounding forest
The Castello di Antognolla, at the center of the golf club
Villa Murlo, lived in by the owners
Wild deer in the Murlo estate
The Murlo hills at sundown
Villa Murlo and the surrounding hills
Map of Murlo Estate
Assisi
Assisi main square
Gubbio - Palace of Consuls
Gubbio - Cloister, Ducal palace
Perugia - Palace of Priories
Perugia - Aqueduct
Overview of the Murlo estate
Murlo is one of the most exclusive private country estates in Italy owned by the same family for generations. The estate of the castle of Murlo dominates the suggestive valley of Monte Tezio and it is located 20 km from Perugia and 15 km from lago Trasimeno.

With its 18 000 acres of immaculate woods, valleys, lakes and rivers, it is the perfect place for a relaxing and private holiday providing a degree of comfort and elegance that it is difficult to surpass. This haven of tranquility is the perfect setting for those who seek a holiday retreat from their frenetic lifestyles and an escape to something more spiritual and calm, enjoying the luxuries of time out and privacy, yet backed by a five-star service and by the facilities and commodities of the luxury golf resort of Antognolla, complete with 18 hole golf course, club and restaurant.

Four spectacular villas (Subtilia, San Savino, Torre and Camminata) have just been restored to offer guests the possibility to explore and live Umbria and fully enjoy the charm of the Umbrian countryside.


HOUSES ON THIS ESTATE AVAILABLE FOR WEEKLY RENTAL
LOCATION
The Murlo estate lies in the heart of Umbria, only 20 km from the town of Perugia


San Giovanni del Pantano - 2 minutes (small grocery store)
Pierantonio 8 km - 10 min, small village with good choice of shops, bank, etc.
Lake Trasimeno 15 km - 20 min
Umbertide 15 km - 20 min
Perugia 20 km - 25 min
Gubbio 35 km - 35 min
Città di Castello 35 km - 30 min
Deruta 45 km - 35 min
Assisi 47 km - 40 min
Cortona 48 km - 45 min
Spello 52 km - 35 min
Foligno 58 km - 45 min
Montepulciano 64 km - 1 hr
Todi 70 km - 1 hr
Spoleto 84 km - 1 hr
Rome 211 km - 2 hr 30 min
Activities & Places of interest
Umbria has an enormous variety and number of traditional feasts throughout the year. The local communities treat these events as an opportunity to confirm their roots and identity and it is a wonderful opportunity for tourists to experience genuine expressions of Umbrian culture and folklore. We can provice a month by month list of the events in the area of the Antognolla and Murlo Estates.
to exemplify: Gubbio is known for its palio, the Corsa dei Ceri, a spectacular run held every year on May 15, in which three teams run through throngs of cheering supporters up much of the mountain from the main square in front of the Palazzo dei Consoli to the basilica of S. Ubaldo, each team carrying a statue of their saint.
Gubbio is so perfect, it looks like a medieval movie set. The main monuments and sightseeings of the city include the Roman Theatre which is still in use for performances, the massive Palazzo dei Consoli, the duomo and the Palazzo Ducale.
In Orvieto, don't miss the fanciful Gothic Duomo, which soars seven stories high. Inside are magnificently vibrant and graphic frescoes of the Apocalypse by Luca Signorelli.
In Assisi, you'll want to visit the famous basilica dedicated to Italy's patron saint, Francis. Frescoes by Giotto vividly tell the story of St. Francis's life. In the Piazza del Comune you'll find a church inserted into the remains of the ancient Temple of Minerva. Above town stands the Rocca Maggiore, a fortress that protected citizens during attacks. For a dose of nature and spiritual contemplation, walk to the hermitage, the Eremo dell Carceri.
In Spoleto, visit the Roman theater and the archeological museum for a view of ancient Umbria. Go see the pre-Renaissance frescoes by Fra Lippo Lippi and Pinturicchio. The church of San Salvatore is one of Italy's oldest and is set within the remains of an ancient Roman temple.
In Deruta, stroll the color-splashed streets where Italy's most famous hand-made ceramics are produced.
Visit charming Citta' di Castello, which packs a lot into such a small town, with palaces, churches, towers, and –of course- a castle, all sitting pretty and begging to be explored.
In Todi you'll find all the main sights conveniently concentrated onto the Gothic Piazza del Popolo, which is itself set over top of an ancient Roman cistern system. Below town is the striking Renaissance church of Santa Maria della Consolazione.
In Perugia, be sure to see the frescoes by local artist Pietro Perugino in the Galleria Nazionale dell'Umbria and in the town hall's Sala del Cambio. Step back to ancient times at the Etruscan arch and Etruscan well. Enjoy the lively atmosphere at the large fountain, the Fontana Maggiore. Sample the chocolates named for the city.
Perugia plays host to international visitors with its acclaimed annual Umbria Jazz Festival, held each July. A wildly popular chocolate festival every October pays homage to the city's sweet side.
Spoleto offers up culture, dramatic performances and musical concerts during the Festival dei Due Mondi.
Gubbio's Roman theatre is a dramatic setting for summertime, open-air performances.
For children: Maridiana is a farm that breeds Alpacas, angora goats and selected sheep, situated in Tiber Valley approximately 10 minutes from Umbertide.
Citta Della Domenica Park: A wonderful zoo / adventure land on the outskirts of Perugia. It features both domestic and wild animals, various play areas and a train. It is a lovely day out for the family with young children. www.cittadelladomenica.com
'Parco del Sole' is a wildlife park that stretches all along a river. There are about 300 species, and you can find a full series of services (bar and dining area, games area, football field, volley field, bowls field, picnic area) that will allow you to spend relaxing hours with the family. The park is situated just off the E45 south of Deruta, which is approximately a 40 minute drive from the villa. www.parcodelsole.com
Perugina Chocolate Factory and Museum in Perugia: Any chocolate lover can take a trip to the nearby Perugina factory and visit the museum and take a guided tour of the factory. Free entry. Open Monday to Friday
Sports
The villas are set within the Antognolla golf resort and are at only 3 to 7 minutes away by cart from the golf club. Guests staying at the villas have prior access to the golf and have special green fees to play in this 18 holes championship golf course and special discounts at the restaurant. can hire a golf cart to go from the villa to the golf through private roads within the estate.
Only 5 minutes away by car it is possible to hire mountain bikes to explore the undulating hills of the property and reach the top of Monte Tezio from where you can enjoy a striking view and even see the Trasimeno lake.
It is as well possible to go horseback riding across the estate and fish in the surrounding lakes. These activities can be formulated into a pre-arranged programme or they can be arranged on a request only basis.
Tennis: In Umbertide (opposite Coop) there is a large tennis centre. Here you can hire both indoor and outdoor courts and the estate has a couple of tennis rackets that you are welcome to borrow.
OUR ITALY BLOG
Read our blog posts telling you more about this estate :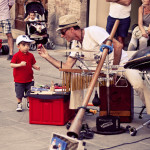 The One and Only Umbria Jazz Festival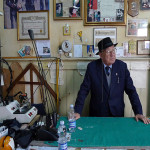 My Tailor is… in Umbria