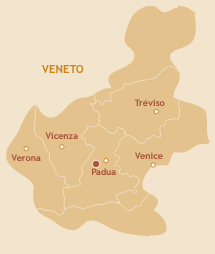 OVERVIEW B&B Castello La Montecchia
In the thousand years and more of its existence the castle has again and again been enlarged, renewed and renovated. It has retained the appearance of a stronghold, but this by no means excludes ornamentation such as the curved double stairway and the laurel hedges and borders of hydrangeas.
Crossing the gravel courtyard and climbing up the little Mottolo hill, one arrives at the Castello dominated by its massive keep. Flanked by pine trees, its ancient walls are covered with Virginia creeper and wisteria.
One wing of the castle has been adapted into a spacious bed & breakfast suite with a large sitting room where breakfast is served. The furnishings are as historical as possible and as modern as necessary (bathrooms, upholstery).
RATE:
€ 480 for two nights and two people. A minimum stay of two nights is required.
The rate includes breakfast, as well as electricity, water and heating.
Amenities and services
Villa is equiped with:
Pool: 25 x 10m

Internet access

Hifi stereo
Floorplan of the villa
Living room
Double Bedroom
Dressing Room
Bathroom (Tub)
Garden :
The pool (25×10) belonging to the adjacent Montecchia golf club, only 3 minutes walk away, is open to our guests 6 days a week, from Tuesday to Sunday.