A Great Multisensory Experience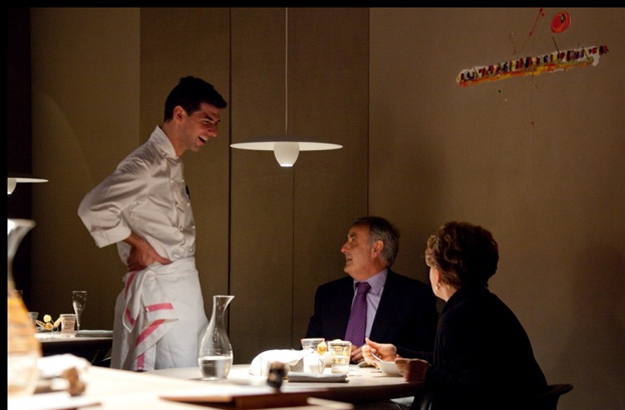 Eight restaurants in the whole of Italy have three Michelin stars. Located near our Trust&Travel rentals in Frassanelle and La Montecchia – more precisely in Sarmeola di Rubano, a village lying in the vicinity of Padua, – Le Calandre is one of these eight gourmet paradises. Ranked at the top of all the major Italian restaurant guides, it is also considered one of the world's 50 best restaurants by the William Reed-Pellegrino-Acqua Panna initiative: www.theworlds50best.com.
I have been to Le Calandre a few times. Originally opened in 1981 by Erminio and Rita Alajmo, it features a cuisine based on the concepts of depth, lightness and fluidity. Enchantment and poetry on a plate, believe me.
Home to chef Massimiliano "Max" Alajmo, Le Calandre is very much a family affair.
Raffaele, the older brother, oversees with Italian finesse the beautiful dining room, which has recently been modernized. Everything from the hand-carved wooden tables to the glassware and room fragrance has been designed by the Alajmo brothers and produced by highly skilled artisans.
Massimiliano tends to push first-timers towards Le Calandre's Grand Classics menus, a succession of finely tuned signature dishes that always include the kitchen's extraordinary suckling pig, served either with a pungent mustard sauce or, when in season, generous amounts of finely grated white truffle. Other must-haves include a saffron risotto with liquorice powder and a more recently conceived dish of a single raviolo with chicory, ricotta and carrot juice topped with white truffle. A delight!
The Alajmo team also runs three more restaurants in Italy: La Montecchia (see our post), in the Montecchia Golf Club, next to the Montecchia wine estate; the famous Caffè Quadri on St-Mark's Square in Venice; and Il Calandrino, a casual bistro located next to Le Calandre, open all day everyday of the week. I love this little restaurant. You will enjoy there one of the best breakfasts to be found in and around Padua: freshly baked croissants, pastries, fresh fruit juices and perfectly pulled espressos made with coffee beans selected and roasted by Torrefazione Giamaica of Verona. But you can also have a very nice lunch, aperitivo or dinner at Il Calandrino – which, by the way, houses the Alajmo family's pastry shop, filled with delectable treats. Make sure not to miss Max's limited edition panettone, which features a new flavour every week.
Our Frassanelle and La Montecchia guests are entitled to a 10% discount at both Le Calandre and Il Calandrino. So, make sure to take advantage of this!