A Magic Underground World – The Antinori Winery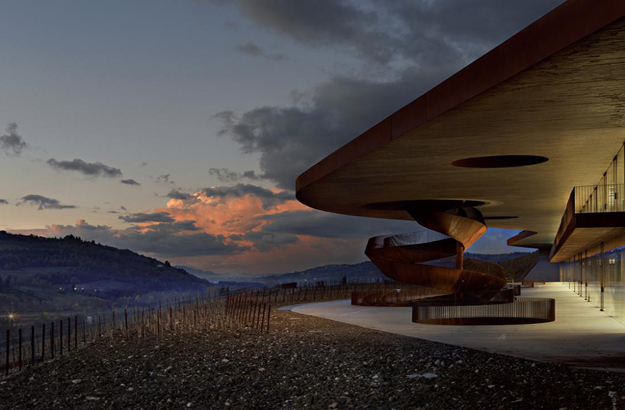 "Katharina, this wine is absolutely divine!
–        Well, it'd better be, Jonathan. I have never paid that much for a bottle of wine!
–        Oh! Is that so?"
Yesterday evening, to celebrate the launch of our new Palone Basso villa – located on the Antinori family's Guado al Tasso estate, – I opened a bottle of Guado al Tasso. My friends and I savoured every drop of it, and everybody agreed that the word "divine", chosen by Jonathan to describe it, was highly appropriate.
I told my guests about the visit I paid a week ago to the new Antinori winery in a coastal region of Tuscany. This winery, or cantina, is an architectural feat. It has been built into the hill and has a roof planted with vineyards. From the road, most of it is invisible; what you see looks like a giant pair of lips opening up from within the mountain.
The whole project took seven years to complete. The style is fascinating and rather masculine. But when you get into the building itself, you get the impression that you are in a woman's womb! Most of the materials and colours used are dark and earthy, and cleverly enhanced by subdued lighting effects.
The cellars have been designed in a way that the ambient temperature is naturally – and ecologically – regulated by the subterranean location of the rooms. No cooling systems are required!
The guided tour of the Antinori winery takes about an hour and costs 20€. It is a pleasant and very informative one, covering the wine production process, the architecture of the premises, an interesting modern art collection, and finally the tasting of three different wines. There are also, on site, a gourmet restaurant and a nice little shop with wines, books and diverse accessories.
Bookings are highly recommended for guided tours that include wine tasting, and should be made one month in advance. Visits are held in either English or Italian. The winery is open to the public every day of the week except Tuesdays, from 10 am to 5 pm, the last tour beginning at 4 pm. Here is the link: http://www.hospitalityantinorichianticlassico.it
Cin cin!

Further reading: http://www.nytimes.com/2013/08/27/arts/design/archea-architects-headquarters-for-antinori-winemakers.html