Learning How to Be a Tuscan Chef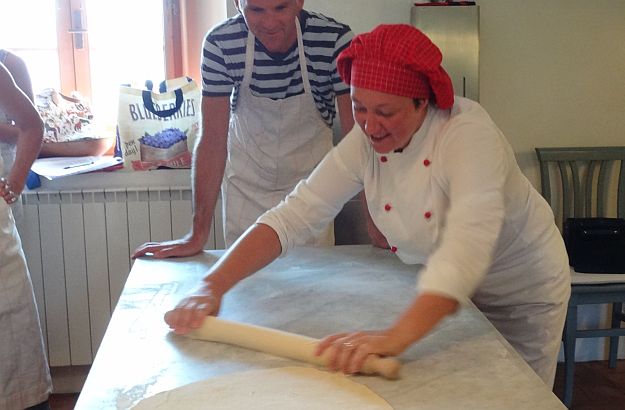 Let me tell you a secret: in my family, we are all big addicts. To the point of being incurable. There is one Italian dish we can never get enough of: the pici all'aglione. This is hand-made pasta topped with a garlicky tomato sauce.
My daughter is always happy to join me in my Parisian kitchen when I announce that pici all'aglione is what we are going to have for lunch or dinner. She ties up her small flowery apron around her waist, I tie up mine, and we set about preparing our favourite dish. We always follow very meticulously, step by step, the recipe which Anna and Sabrina, two adept Tuscan cooks, taught us during the great cooking lesson we took from them in Italy.
While my family and I were staying at her beautiful La Foce estate in Tuscany (featured in our Trust&Travel rental catalogue), Donata Origo came up to me and said :
"Katharina, you absolutely have to meet two of my local friends, Anna and Sabrina. They both give great lessons in Tuscan cuisine, here at the estate.
– Well, yes, I'd love to make their acquaintance!"
So, two days later, early in the morning, we went to the town of Chianciano to meet Anna and Sabrina at the local market. We hit it off with them right away. We did our grocery shopping together, stall by stall, swooning over the tomatoes, chatting and laughing a lot. The idea was to buy everything we would need later on for our first cooking lesson – and ensuing lunch!
Back at the villa, we didn't waste any time and headed straight for the kitchen. Our aprons tied around our waist, we started by learning how to knead the dough. Anna and Sabrina showed us the different ways of rolling the pici, a local type of pasta resembling very thick spaghetti. My daughter got so enthusiastic that she even invented one or two techniques of her own! Then we prepared the tomato and garlic sauce, and were finally ready to have our lunch and savour the results of our apprenticeship.
We so much enjoyed the experience that we are now making our own pasta at home – our guests keep raving over them when they come over for dinner. We have also decided to take other cooking lessons with Anna and Sabrina next time we're at La Foce, and to become tortelli virtuosos and masters of the porcini, a type of mushroom that can be picked on the slopes of Mount Amiata.
Anna and Sabrina do not only teach at La Foce. They are happy to come to your villa to teach. Just send Katja an email. The cost is 80€ per person, not including wine, or 40€ for family members who just want to enjoy the meal without taking the cooking lesson.
Buon appetito!