The Falcons of Frassanelle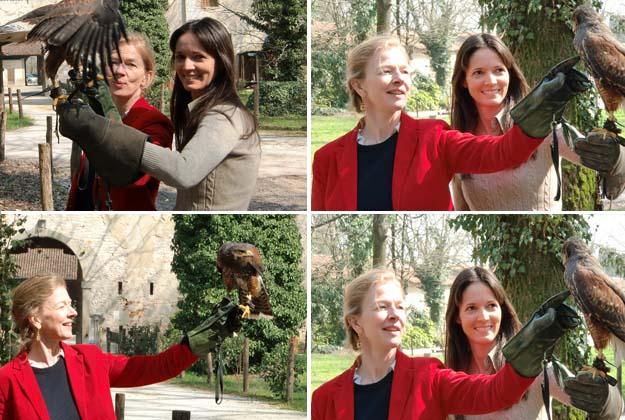 "How about letting our little friend here perch on your hand?
– Um… well… Is he in a good mood?"
The "little friend" whom Stefania was introducing me to was a healthy falcon with a sharp beak, long claws and big fierce eyes. His name was Naggy or Narghile, something like that.
"Yes, he's in a very good mood, Stefania added, and he seems to have a crush on you.
– Oh, does he?" I chirped.
So, I didn't have any reason not to let the raptor perch on my hand and stare at me phlegmatically. I was invited to slip on protective gloves and my friend Marla, who was with me that day, gave me the final word of encouragement I needed:
"The worst that can happen is that he'll carry you off to the sky and into the sunset…"
In ancient Egypt and among the Incas, falcons were the symbol of the sun and the sky. So Marla was right in a sense.
The Alantica Falconry Company has its principal base in the heart of the beautiful Frassanelle Park, between Venice and Padua. During our visit there, Marla and I had the pleasure to meet Stefania Bevilacqua, a professional falconer (as well as one of the Alantica Company founders). She gladly introduced us to the resident owls and falcons; and none of them, to my big surprise, was in a menacing or antisocial mood. Quite the contrary. When we took out our camera to take pictures, they willingly struck very interesting poses.
There was a genuine communication and interaction between the birds and the falconers, similar to what happens between a dog and its master. I find this amazing. Even between myself and the not so terrifying villain I held on my hand for a couple of minutes, there was something going on, like a mutual assessment and a readiness to strike a partnership of some sort. A great experience, I must say. There is definitely something to be learned from falconry, an art that emerged in the Orient more than 4000 years ago!
If you're staying in or around Frassanelle at one of our Trust & Travel holiday villas, you can participate in a guided tour in the company of owls and falcons every Thursday morning  at 9:30. It's free for all of our guests, and real fun to do with children. For more information, you can call Stefania Bevilacqua (+39 049 9902675) or Antonella Pintore (+39 333 2722398). They both speak English.
Bye for now!