Grottesque with Two T's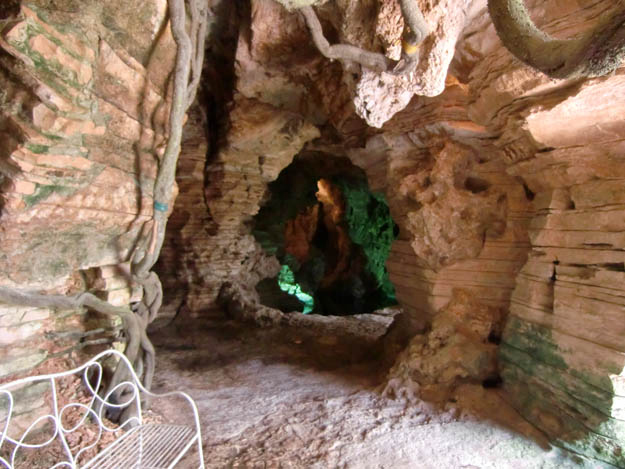 When I go to Frassanelle – one of the estates featured in our Trust & Travel catalogue, – I sometimes turn into a cavewoman. Or a "grottowoman", to be more precise. A metamorphic experience that has made me realize that the Stone Age would have suited me beautifully…Frassanelle lies near Padua in the exquisite Veneto region. The story begins in the nineteenth century with Count Alberto Papafava, ancestor of the current owners of the estate. One day, this nobleman – who happened to be a romantic painter as well –  undertook to rearrange the garden of his large property so that he would have a broad palette of "landscapes" to paint from without having to go anywhere else. "Okay, Gentlemen, I want you to put up some sort of a hill right here, dig out a small pond over there on the left, and while you're at it, please be kind enough to delve me a grotto back there into the rock…"
Excavated as requested, Count Papafava's fake grotto was modelled on the natural caves found in other parts of the large surrounding park. For a very compelling result, I must say.
Yes, this vast artificial grotto still exists today! And you can, if you want, explore every corner of it. Free visits are organized weekly for our guests staying at any one of our Frassanelle rental houses.
Secret passageways, internal lakes, huge stone slabs, stalactites, stalagmites and startling lights… Chances are Count Papafava's grotto will awaken your neolithic instincts!