INFIORATA – The Italian flower carpet procession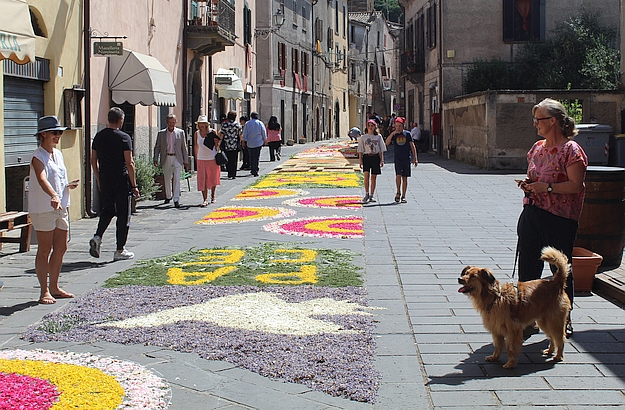 I am just back from the small town of Lubriano in northern Lazio. I went for the Infiorata, the flower carpet procession held for the Ascension.
Food stylist and cookbook author Alice Adams Carosi has a home in Lubriano. I was lured there by her blog post about the Infiorata: "From the church of the Madonna del Poggio all the way to the end of the village, the road is covered with a myriad of petalled plots, some larger, others smaller, some intricate, others geometric blocks of colour and religious symbols, the velvety yellow of the Ginestra, poppy red, and a million hues of local roses, carted onto the street in buckets, baskets and crates."
Many Italian towns celebrate Ascension or Corpus Domini with an Infiorata. Spello in Umbria and Noto in Sicily are famous for the tradition. Lubriano's Infiorata is a much more local event, so beware – it's a truly ephemeral experience: as soon as the people taking part in the procession have walked across the flower carpets, the petals are swept away. Best make sure to be in town by 10.30am.