Celebrating the Precious Tuscan Olive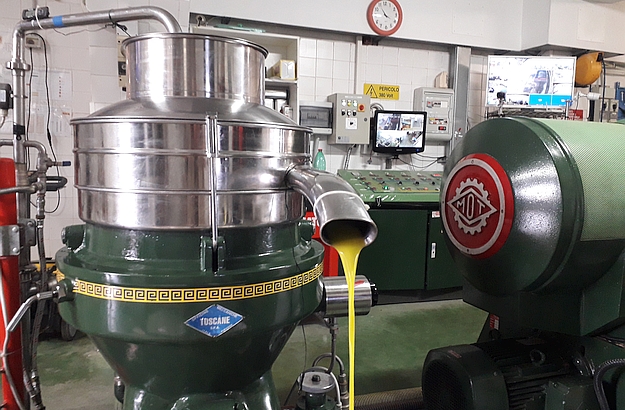 You may remember, dear readers, that I recently wrote an article about the festive sagre, these celebrations held in myriad villages and towns in Italy, all year round, and during which you can taste local delicacies and enjoy a most convivial atmosphere.
A few weeks ago, in the lovely village of Montisi, south-east of Siena, I discovered the Sagra del Primo Olio, entirely dedicated to the freshly pressed extra virgin olive oil, and a great opportunity for the uninitiated to see how this magic nectar is actually produced.
Montisi is surrounded by prolific olive groves, and through October and November the gatherers spread out, under the olive trees, the huge nets used to collect the precious berries. Then, local growers take their crop to the Frantoio La Romita, a Montisi mill where olives are washed and pressed over a period of several weeks.
During the Sagra del Primo Olio, which takes place on the last weekend of October until November 1st, you can visit the mill and see how the olives are pressed and then poured into the containers which the farmers use to store the bright green olive oil Tuscany is famous for – a bright green that will turn into a rich golden colour in the course of the year. And after your visit to the mill, you won't resist the temptation to taste the exquisite liquor as the locals do: spread on bruschette, little slices of toasted Tuscan bread.
While in Montisi, I seized the opportunity to drop by Un Macello to see Francesca's latest hand-printed creations. Guess what, my lovely friend was relishing a bruschetta when I walked into her store. Then, on my way out, I ran into the Buon Gusto travelling gelateria, which was exceptionally offering an olive oil based ice cream, gelato all'olio nuovo – simply divine!
A presto!