Tuscany, so sweet to your tastebuds… once again!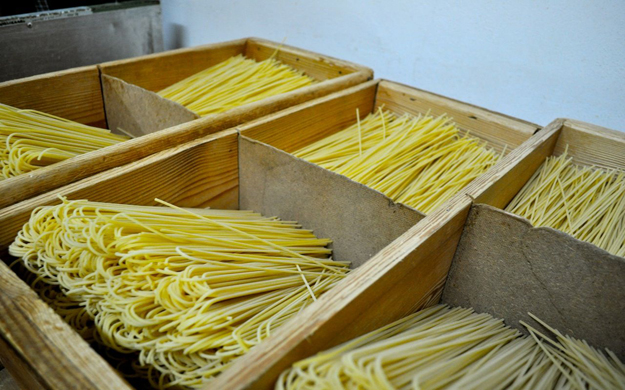 No, I did not know what good, real good pasta was until…
Here is the story of one the great gastronomic discoveries of my life. I was dwelling in a Tuscan farmhouse near Mercatale Val di Pesa, a tiny little town located in the well-known Chianti area, between Florence and Siena, and surrounded by olive groves, vineyards and dense woods.
I used to do my shopping at a small grocery store owned by Giuseppe, an outstanding baker and a quality food connoisseur. He was also married to a very friendly young lady, Stefania, who ran the village's post office.
Giuseppe had a huge variety of top quality food products in his store, as well as close ties with his many purveyors and providers. I always wanted to try something new every time I walked in there. One day, he suggested I take home a pack of Martelli pasta: "Trust me, he said with a smile, you will get addicted."
And guess what: addicted I got! This pasta is among the best ones you can find anywhere. It has been "family-made" since 1926 in accordance with a tradition passed on from generation to generation. In a nutshell, the Martelli pasta is made by slowly kneading high quality durum wheat with cold water. Then, drawing it through bronze moulds gives it not only the desired shape – spaghetti, penne, maccheroni, etc. – but also a unique porosity that will delicately absorb, as intended, the sauces and condiments. Finally, it is dried at a low temperature for about 50 hours.
Believe me, the result is absolutely delicious. And the cherry on the cake is that the Martelli pasta is sold worlwide. I, for one, find it at the Italian grocer's of my Parisian neighbourhood.
Last but not least, the Martelli family factory can be visited. By prior arrangement – you just call two days in advance at +39 0587 68.42.38  or send an e-mail at info@famigliamartelli.it – you will be able to enjoy a free guided tour of the Martelli factory, located near Pisa and only a 15-minute drive from our Villa Gioli (featured in our Trust&Travel rental catalogue). And if you have kids, they will simply love this little spaghetti trip!
By the way, if you're interested, Giuseppe's store in Mercatale Val di Pesa has now its online counterpart: www.ilpanaio.it
Buon appetito!