Shaken but not Broken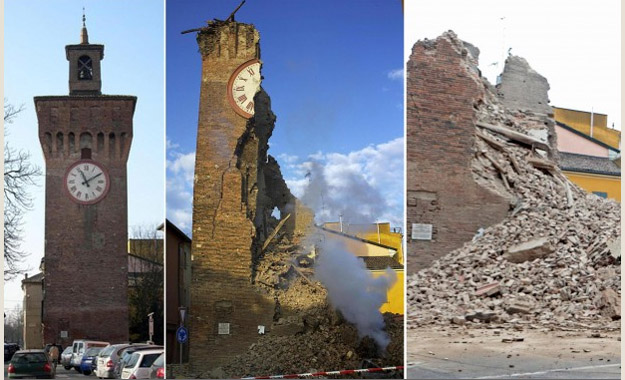 Even though he tried, over the phone, to sound calm and composed, I could descry in his voice and tone that he had been thrown off his usual balance:
"Our existence is punctuated with trials and ordeals, Katharina.
– Yes, Giordano, I agree. We could do without them though, couldn't we?
– Some of them, at least!"
Giordano Emo Capodilista, the owner of La Montecchia, one of our estates, burst into a nervous laughter. A second later, though, he was genuinely grave again:
"We're lucky we haven't had any damage here, Katharina. But believe me, the people here are a hundred percent behind those who have suffered losses.
– Oh, I believe you, Giordano, I believe you. I know Italians: you can be shaken but never broken.
– That's right: shaken but not broken."
The epicenters of the earthquakes that recently shook Italy were located in the Emilia-Romagna region, more precisely north of the city of Modena. The tremors were felt from Milan to Venice, from Florence to as far north as Austria, my homeland.
My only experience of an earthquake dates back to when I was 9 years old, in Austria. We were at home in the evening when suddenly the room started to tremble and wobble. We lived on the 4th floor and didn't have time to leave, so my mother told us to stand under the door frame. I remember I had a big scare.
Thank God, none of our Trust & Travel houses and estates suffered in any way from the recent Italian shocks. Still, my heart goes out to the Italian people and particularly, needless to say, to all the people who have lost a relative, a friend, a home.