A Great Mix of Wines and Stones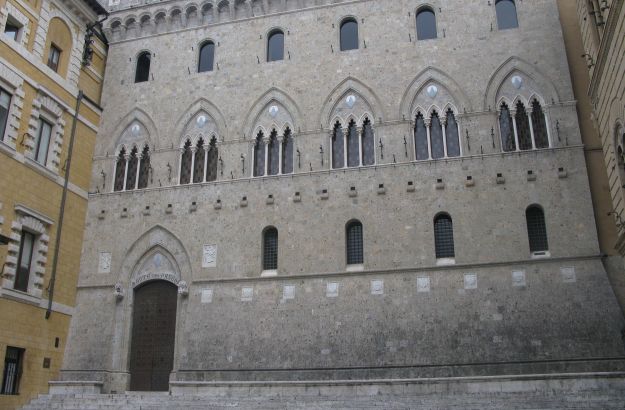 In the heart of Tuscany lies a magnificent town which is exceptional in many respects. Founded by the Etruscans in the first millenium BC… Home to a historic center that has been declared a World Heritage Site by UNESCO… Famous for its architecture, gastronomy, art museums and a colourful medieval horse race taking place twice a year… And the answer is…
Yes, Siena, you've guessed right. Well, have you?
Something new has recently been added to Siena's impressive catalogue of treasures: the Wine & Siena annual fair, which brings into the limelight many of Tuscany's best wines. The second edition of this event was held in January in two different venues: the Grand Continental Hotel and the beautiful Palazzo Salimbeni, an architectural gem located on the Piazza Salimbeni.
The Palazzo Salimbeni is home to the headquarters of the BMPS, the Banca Monte dei Paschi di Siena, the oldest surviving bank in the world – founded in 1472! – and currently Italy's third largest bank. Normally off-limits to visitors, the Palazzo is opening its doors to the general public on the occasion of the Wine & Siena Fair.
I seldom say no to a good winetasting event; and when it is held in such beautiful premises, I never let slip the opportunity.
Remodelled in neogothic style in the 19th century, most probably on top of pre-existing medieval structures, the building hides behind its majestic façade impressive frescoed ceilings and a large collection of archived account books dating back several centuries. To my astonishment, I also discovered during my visit that the Palazzo is also home to a most wonderful spiral staircase which was designed in 1969 by architect Pierluigi Spadolini, and completed in 1978. A glass of Tuscan red wine in hand, I undertook to climb step by step this stately and towering stairway to Heaven… A moment of sheer bliss!
The next edition of this new Wine & Siena Fair will be held in January 2017. Here is the link to their website: Wine & Siena.
See you there maybe?