view region map

OVERVIEW Ai Nani
Looking for a Veneto accomodation? Villa Valmarana ai Nani is a marvellous architectural and artistic site composed by three buildings and an 18th century park. The 3 buildings are the Palazzina (owners' residence), the Foresteria (guest-house) and the Scuderia (stables).
A wonderful loft-like holiday apartment for 6, complete with wifi and air conditioning, has recently been restored in the top floor of the Foresteria.  This is Italian modern architecture as we like it. A simple and linear use of wood, glass and iron matches the 18th century frescoes on the walls (in one bedroom). Simple and comfortable modern furniture completes the picture.
The long-stretched living&dining&kitchen has a mezzanine with a library with precious old books. The windows look out over the unspoilt valletta del silenzio (valley of silence) and the Monastery of Monte Berico to one side and the Villa and its gardens to the other. There are three bedrooms and two bathrooms.
The apartment has no garden, but the thrill of staying in a place which has inspired many great artists – let us just mention Goethe – should make up for this. This is a very special Veneto accommodation, particularly for art lovers.
Vicenza can be reached on foot in 20 minutes using an 18th century covered archway. By car it is 5 minutes.
Villa Valmarana, where the Valmarana family still lives, is open to the public for visiting its frescoes by Giambattista and Giandomenico Tiepolo (1757). The frescoes in the main villa and the foresteria are universally considered the highest expression of the painting of the eighteenth century and one of the highest examples of the Tiepolo's genius.
Ai Nani is a perfect place for those who wish to spend a few days in Vicenza, the town of Palladio, in a very special atmosphere.
Amenities and services
Villa is equiped with:
Internet access

TV

Dishwasher

Washingmachine

Dogs welcome
Rent includes:
Bed & bath linens

Final cleaning
Service on request:
Cook

Air conditioning

Central heating
Floorplan of the villa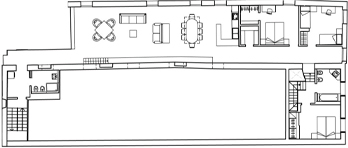 Living room
Dining room
Kitchen
1 double room
2 twin bedrooms
2 bathrooms
Garden :
OUR ITALY BLOG
Read our blog posts telling you more about this villa and its immediate surroundings :