Overview of the Magrano estate
The Magrano estate lies within a broad bend of the river Chiascio near the medieval city of Gubbio in Umbria. This region is justifiably described as the "green heart of Italy."

The estate spreads over 1500 acres (600 hectares) of meadows and woods, offering a variety of paths for hikes, horse riding and – most exciting – the search of white and black truffles with specifically trained dogs (we can organise this for you). Signposted paths completed by instructions given by the owner will open up this nature reserve to you, where you will be able to see deer, roe, porcupines, wild boar and pheasants.

However, Umbria's cultural and gastronomic abundance is not far. Landmarks such as Gubbio, Gualdo Tadino, Nocera Umbra, Perugia and Assisi can be visited in half or full day trips.

Amidst a beautiful untouched countryside stands the castle of Magrano. First mentioned in the early Middle Ages (1200 ac) playing a strategic role in the defence of Gubbio against Perugia, in the 15th century it became one of the favourite hunting lodges of Federico da Montefeltro, Duke of Urbino and Gubbio. His famous profile portrait by Piero della Francesca hangs in the Uffizi Museum in Florence.

A few centuries later, in 1830 to be precise, Princess Giulia Bonaparte, niece of Napoleon, became the new mistress of Magrano. Remo and Maria Camilla Giunta, the charming actual owners, are her direct descendants.


HOUSES ON THIS ESTATE AVAILABLE FOR WEEKLY RENTAL
Castello di Magrano
Number of beds : 14 or 30
LOCATION
The Castello di Magrano lies at 5 minutes by car from the village of Carbonesca and a 30 minute drive from Gubbio.


Carbonesca 2km - 5 min
Gubbio 21 km - 25 min
Nocera Umbra (Truffle country) 37 km - 40 min
Assisi 30 km - 40 min
Umbertide 48km - 50 min
Perugia 40km - 50 min
Città di Castello 65km - 1 hr
Todi 75km - 1 hr 15 min
Lake Trasimeno 85 km - 1 hr 15 min
Spoleto 80 km - 1 hr 10 min
Florence 195 km - 2 hr 15 min
Rome City 220 km - 2 hr 40 min
Activities & Places of interest
Gubbio is so perfect, it looks like a medieval movie set. The main monuments and sightseeings of the city include the Roman Theatre which is still in use for performances, the massive Palazzo dei Consoli, the duomo and the Palazzo Ducale.
Gubbio is best known for its palio, the Corsa dei Ceri, a spectacular run held every year on May 15, in which three teams run through throngs of cheering supporters up much of the mountain from the main square in front of the Palazzo dei Consoli to the basilica of S. Ubaldo, each team carrying a statue of their saint.
In Orvieto, don't miss the fanciful Gothic Duomo, which soars seven stories high. Inside are magnificently vibrant and graphic frescoes of the Apocalypse by Luca Signorelli.
In Assisi, you'll want to visit the famous basilica dedicated to Italy's patron saint, Francis. Frescoes by Giotto vividly tell the story of St. Francis's life. In the Piazza del Comune you'll find a church inserted into the remains of the ancient Temple of Minerva. Above town stands the Rocca Maggiore, a fortress that protected citizens during attacks. For a dose of nature and spiritual contemplation, walk to the hermitage, the Eremo dell Carceri.
Assisi: Festival Calendimaggio, held on 1–5 May, is a re-enactment of medieval and Renaissance life in the form of a challenge between the upper faction and the lower faction of the town. It includes processions, theatrical presentations, flag-weavers and dances.
In Spoleto, visit the Roman theater and the archeological museum for a view of ancient Umbria. Go see the pre-Renaissance frescoes by Fra Lippo Lippi and Pinturicchio. The church of San Salvatore is one of Italy's oldest and is set within the remains of an ancient Roman temple.
In Deruta, stroll the color-splashed streets where Italy's most famous hand-made ceramics are produced.
Visit charming Citta' di Castello, which packs a lot into such a small town, with palaces, churches, towers, and –of course- a castle, all sitting pretty and begging to be explored.
In Todi you'll find all the main sights conveniently concentrated onto the Gothic Piazza del Popolo, which is itself set over top of an ancient Roman cistern system. Below town is the striking Renaissance church of Santa Maria della Consolazione.
In Perugia, be sure to see the frescoes by local artist Pietro Perugino in the Galleria Nazionale dell'Umbria and in the town hall's Sala del Cambio. Step back to ancient times at the Etruscan arch and Etruscan well. Enjoy the lively atmosphere at the large fountain, the Fontana Maggiore. Sample the chocolates named for the city.
Perugia plays host to international visitors with its acclaimed annual Umbria Jazz Festival, held each July. A wildly popular chocolate festival every October pays homage to the city's sweet side.
Spoleto offers up culture, dramatic performances and musical concerts during the Festival dei Due Mondi.
Gubbio's Roman theatre is a dramatic setting for summertime, open-air performances.
Sports
Magrano estate – The castle of Magrano lies within a large estate which is the natural habitat of fallow deers, pheasants, wild boars and many other kind of animals. It is possible to take a guided tour of the estate with the owner or the estate manager, by car or on foot.
Magrano estate – trekking: the estate has a large number of signposted treks of all different levels. Beautiful experience.
Magrano estate – the estate lies on the river Chiascio which is excellent for fishing. Bring your own rod or hire one nearby.
Magrano estate – Truffle hunting: in certain months of the year, you can follow the truffle hunters with their specially traines dogs". Dig in!
The Natural Park of Monte Cucco is a protected area not far from the castle, covering a land surface of 10,480 hectares (24 thousand acres). The Park is famous for its subterranean rivers and mineral-water springs, for its clear streams, great beech-woods and its limestone cave system, untouched by mass tourism. Trekking on signposted routes, mountain biking, pony-trekking, and for the more adventurous, canyoning, paragliding and hang-gliding (international championships are held here). Complete information on their website http://www.discovermontecucco.it.
Montecucco Natural Park: the grottoes have more than 30 kilometres of caves reaching a depth of more than 900 meters. This is one of the most important underground systems in Europe. Up until recently the caves could only be entered by expert potholers. Since a couple of years however, there is an 800 metre long underground route open to anyone open to this adventure. The experience ranges from the sound of water (someone called it a silence full of sound), which slowly erodes the rock to the sight of stalactites and stalagmites, caves, labyrinths and tunnels. Not for children under 10. For more information visit http://www.grottamontecucco.umbria.it/eng/calendario.html
OUR ITALY BLOG
Read our blog posts telling you more about this estate :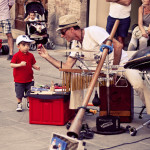 The One and Only Umbria Jazz Festival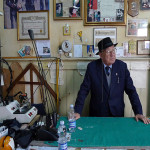 My Tailor is… in Umbria