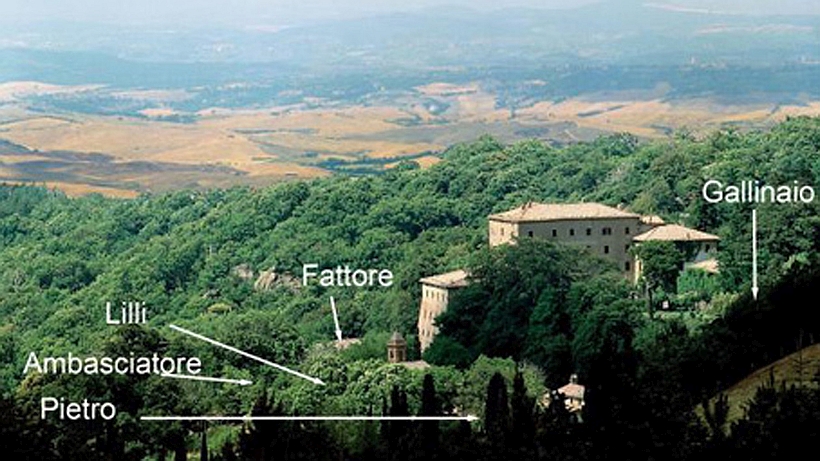 The Vivo d'Orcia estate: the houses for rent are grouped around the castle. The Val d'Orcia spreads below.
Overview of the Vivo d'Orcia
"Vivo d'Orcia is not a place, it is a way of life…" The Castle of Vivo d'Orcia lies in the widespread Orcia valley in southern Tuscany, 2 hours from Florence, 1 hour from Siena, close to such cultural jewels as Pienza, Montalcino and Montepulciano, to name but a few.
The hamlet Vivo D'Orcia lies at an altitude of 900 m above sea level. The particular combination of altitude and meditteranean climate creates an unusual whealth of flora and fauna. Many wild animals such as deer, wild boar and foxes as well as the most deliscious truffles call the Monte Amiata their home.
A pope's refuge: the estate with the impressive castle and the romanesque church reaches back to the 11th century. The humble hermitage was transformed into a sophisticated and well-organised agricultural center when Cardinal Marcello Cervini, later Pope Marcello II, acquired the estate in 1534. The property is still owned by the family today, they spend the summer months in residence as attentive and interesting hosts. Incidentally, their castle was featured in the jan. 2005 issue of THE WORLD OF INTERIORS.
Century old chestnut trees cast their shade in the gardens of the houses, ideal for al-fresco meals outdoors. Fresh fruit and tomatoes, spicy sausages, homemade pasta and polenta, mushrooms from the woods next door, truffles, and of course the precious local olive oils and wines.
OUR ITALY BLOG
Read our blog posts telling you more about this estate :