High water in Venice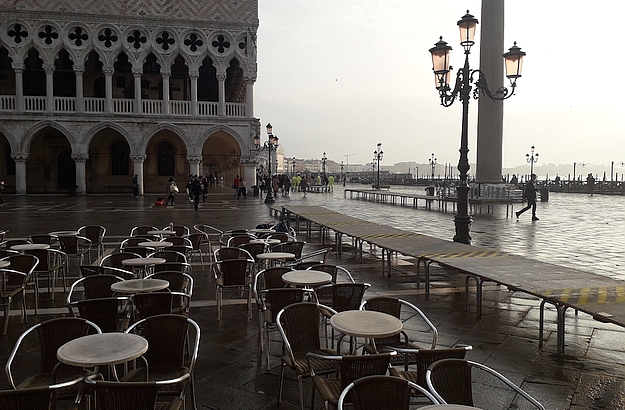 I had been to Venice a hundred times before, at least, and never, ever had I witnessed the phenomenon which I had been reading and hearing about for more than twenty years. And then it happened, on the 5th of November 2017: Venice's acqua alta. Its high water.
That day, in November, the water reached 127 centimeters – the highest level in the whole of 2017 – on what is called the mareographic scale. A third of the Serenissima got under water, believe it or not.
The water actually began to rise towards the end of the day. On our way to dinner, we had noted that duckboards and elevated platforms had been set along the main streets to allow passage – even though the ground underneath was dry. We were also taken aback, almost frightened, by howling sirens starting off as a sound evocative of an impending air raid, then turning to various beeps that tell residents how much water to expect – and how much mopping-up they might have to do in their homes or shops…
When we left the restaurant a few hours after ordering our dinner, gee, I couldn't believe my eyes: there was water everywhere, and the footbridges were much appreciated, as you can imagine.
At daybreak on the following day, I woke up with a start, wondering what the "situation" was in the city. When I left our Palazzo Ca'nova later on in the morning, the water had already receded, much to my surprise, and I no longer had to use the duckboards to cross the square in front of the San Moisè church – it had nearly dried up during my sleep. Only the moribund seaweed left behind on the chairs of the Piazza San Marco's cafés bore testimony to the short-lived acqua alta.
Later that day I walked over to Chiarastella Catalana's artisan fabrics store, where I stumbled upon Acqua in Piazza, a new book about Venice's high water, written by Jane da Mosto (whom we have recently interviewed on our blog) and Giannandrea Mencini. The beautifully designed book supplies gripping information about the physics, history and future of the Venetian acqua alta.
The Serenissima also has its own web page on the subject!
A presto!