A Restaurant on a Green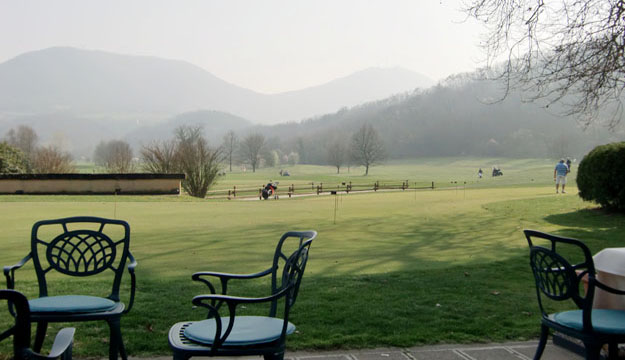 My obsession with good food and restaurants should be somewhat familiar to you by now, I guess. Well, we all have our little failings and addictions, don't we?
This week, I'd like to tell you about the Parco delle Colline, a sweet little restaurant located in the heart of the Frassanelle historical park, and more precisely in the Golf Club of the Frassanelle estate – an estate which we proudly feature, as you may remember, in our rental catalogue.
Last year, I was at Frassanelle with a great collaborator of mine, Marla, when the charming owner of the estate, Francesca Papafava, decided to take us to the Parco delle Colline  for an Italian style farnientesque  – my own coinage – late lunch.
Upon our arrival on the premises, we spontaneously headed towards the cosy outdoor terrace. From our table, Marla and I delighted for a moment in the beautiful view offered to us by the golf course in the foreground and the captivating Colli Euganei, the Euganean Hills, in the distance. These hills, of which there are more than 80, are of volcanic origin. They placidly rise in the plain extending south of Padua in the Veneto.
The aromas escaping from the kitchens soon tore us away from the view and reminded us that we had also come here to eat. So we ate. First, some exquisite antipasti in the form of lush green salads with parmesan shavings and thinly sliced artichokes. Then we had a primo of gnocchi, divinely cooked and topped with a tasty vegetable medley. Finally, we rounded off our meal with a great Italian espresso and a little chat with the friendly American couple who were sitting at the table next to ours.
Who could ask for more? A great setting, an unpretentious but very assuaging atmosphere, a good simple and healthy cuisine… The prices? Very affordable considering the venue. For instance, the Pranzo del Golfista, the Golfer's Lunch, hovers around 12€. Hard to beat.
See you next week!