A Sweet Pre-Latin Aperitivo in Vetulonia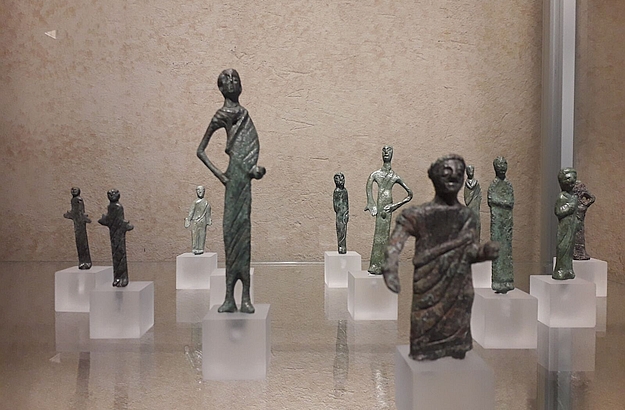 Before moving to the bel paese, I had barely heard about the Etruscans, a rich and remarkable civilization who flourished in ancient Italy until they were conquered and assimilated by the more powerful Latin polity.
The ancient Romans often referred to them as the "Tusci", from which "Tuscany" has been derived. They also borrowed from them many of their ingenious inventions in agriculture and road construction.
Most extant villages of Etruscan origins sit at the top of steep hills and offer breathtaking views over the magnificent Tuscan countryside. Vetulonia is one of them. Lying 300 meters above sea level and about 15 kilometers northwest of Grosseto, it is lesser-known than Populonia, another Etruscan commune, but just as worthy of a visit.
Isidoro Falchi, who gave his name to Vetulonia's archaeological museum, discovered in the 1880s the two Etruscan necropoles bordering on the present-day town. The museum exhibits some of the small slender statues which were found at these burial sites – and which vividly remind me of the works of Alberto Giacometti.
The delicate Etruscan jewellery also made a great impression on me, so much so that I couldn't resist a beautiful copy of a pair of earrings at the museum's shop.
After this visit, I had a stroll through the town, passed by the impressive remains of the ancient city walls, and then stopped for an aperitivo at Il Ritrovo di Bes, a nice little bar where I ordered a glass of Prosecco, chatted and drank one or two toasts with the "Etruscan" locals, and enjoyed the splendid view that unfolds across the hills all the way to the Tuscan coast and the city of Castiglione della Pesciaia – exactly what you'll do when your turn comes to visit Vetulonia, won't you?
I have searched extensively online, but couldn't find how they used to say "Cheers!" in Etruscan. So I'll stick to Italian for now: Cin cin!