The Tiny Tuscan Theatre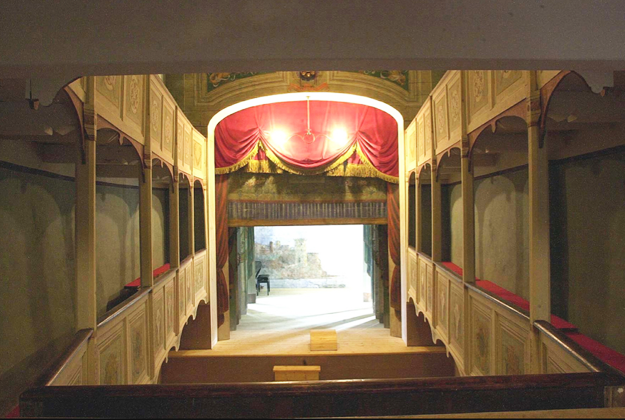 "Oh, evil, cold-hearted woman, why hast thou betrayed me so ruthlessly?
– Heaven forbid! I have not betrayed you, my sweet Lord… Not yet."
These are the first two lines – the only lines actually – of the introspective drama I have begun to write for the unique Teatrino di Vetriano,  the smallest theatre in the world, as certified by the 1997 Guinness Book of Records.I have chosen this nonpareil venue because I'm sure it will be the perfect setting for my play: intimate, cosy, small. Very small. Seventy square meters in all. Just enough room for 95 people – 65 in the stalls and 30 in the two rows of the dress circle.
The story of this theatre is worth telling. In 1890, Virgilio Biagioni bequeathed a haybarn to the 18 families of Vetriano di Pescaglia, a small village near Lucca in Tuscany, on condition that they convert it into a theatre. A year later, this condition had been fulfilled thanks to these families' financial and creative contributions. The stage backdrop was painted by the villagers themselves, for instance.
For nearly a century, the Teatrino di Vetriano  regularly staged plays and shows put up by the locals, and attracted audiences from the whole area. Then it started to decline and decay, and in 1997 was donated to the Fondo per l'Ambiente Italiano (FAI), the equivalent of the British National Trust.
The building has since been restored – in my view with outstanding artistry – by architect Guglielmo Mozzoni, who has also refurbished the villa Il Mulino in Tuscany near Siena, featured in our Trust & Travel portfolio, and who happens to own the La Badia estate.
By the way, the smallest theatre in the world is presenting shows again! – under the aegis of the FAI and in partnership with Milan's celebrated Teatro della Scala.  It can also be rented for private receptions and be visited any day of the week with an advance reservation. Telephone: +39 0583 358 118. Email: failucca@failucca.it.
I hope to see you there at the premiere of my play!