KENYA'S SOUL IN THE HEART OF TUSCANY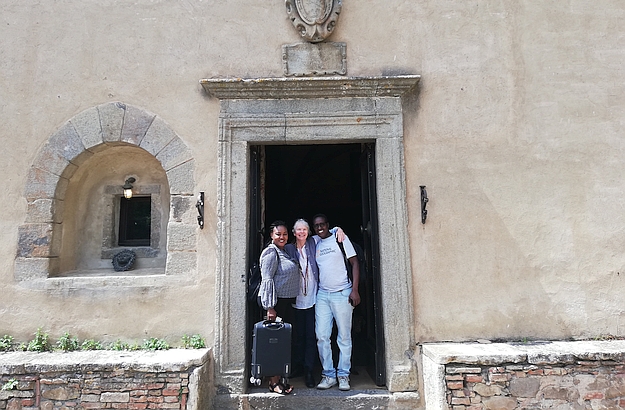 Even though my work is firmly rooted in the bel paese, it never ceases to offer me opportunities to meet new people from every corner of the world and learn about their customs and life experiences.
A few weeks ago, for instance, I was taking part in the Thought for Food Symposium at the Castello di Potentino, where my old friend Charlotte Horton, director of the estate, always manages to connect people from the most diverse places and backgrounds. On this occasion, I met social innovators Maggie Sakian Koshal and Nelson Reiyia during a discussion that was held around their work in the Maasai Mara, a large game reserve in the south-west of Kenya.
Both born in the traditional Maasai community, Maggie and Nelson were among the few of their generation to receive an education. Maggie's father, a Maasai chief, decided to go against tradition and send his two daughters to school. As for Nelson, he used to walk 20 kilometers a day to get his high school degree!
After university and years of working in Nairobi, the couple returned to the Mara to found the Nashulai Maasai conservancy, the first reserve owned by actual members of the Maasai community, and the purpose of which is twofold: to preserve the sanctuary's wildlife and to provide sources of income for the locals.
Maggie and Nelson have also opened a school, launched the Oldarpoi Mara Camp for safari lovers, and been actively campaigning against female genital mutilation.
When in Italy, my two new friends took cheese-making lessons from Francesca and Lorenzo, who produce, at their Caseificio Murceti, what is possibly Tuscany's best pecorino (sheep milk cheese). And the two couples discovered that they had a lot in common, like the challenge posed by animal predators and the necessity to protect them while ensuring the survival of human communities. Lions in the Kenyan Mara and wolves on and around Mount Amiata can raid sheep, goats or cattle, and destroy a family's entire livelihood in the course of a single night.
Before leaving Tuscany, Maggie told me something I didn't know: the Maasais' diet rely heavily on milk and dairy products. And she added: "When you come visit us in Kenya, chances are you'll be able to savour some locally-made pecorino…"