A Pop-Up Restaurant from Tuscany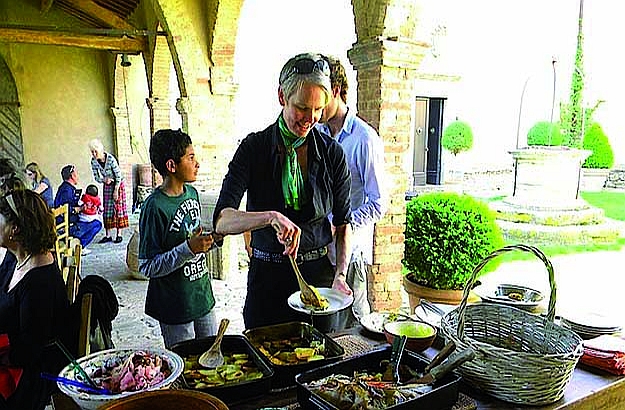 Contrary to my general practice, our "story" today will not exclusively focus on Italy. And it will have to do with two castles…
In 2011, one of the owners of La Foce, Donato Origo, made me discover the Castello di Potentino, an imposing citadel situated on the slopes of Mount Amiata, the highest mountain in Tuscany – a mountain renowned, as you may remember, for its hot springs, chestnut woods and untamed environment.
Originally built on foundations dating back to the Etruscan antiquity, the Castello di Potentino  is now the property of an English family, the Greenes, who have been farming and making wine in Italy for several decades. When they bought the castle in the year 2000, it was in ruins. But they have restored it beautifully since.
Charlotte Horton and her brother Alexander Greene make very good wine; they have had a passion for viticulture since they settled in Italy. But they are also outstanding cooks, and run a great bed-and-breakfast in their castle.
For a number of years now, Charlotte and Alexander have been promoting their wine in England by organizing fashionable "pop-up restaurants" for one or two nights. They bring all the fresh produce needed for these dinners by car – all the way up from Italy! This bold and original initiative has met with great success, needless to say.
I recently asked Charlotte and Alexander: "How about bringing your pop-up restaurant to France?" And they said: "We'd love it!" As you know, my life is straddling between France and Italy. So, I discussed the idea with the owners of the Château de Courances, a magnificent estate located 50 km south of Paris, and it didn't take long before a deal was arrived at. The Castello di Potentino will hold a pop-up restaurant at the Château de Courances on June 15th!
The Château de Courances is one of the most beautiful privately owned castles near Paris. Along with its magnificent park and jardins d'eau ("water gardens"), it can be visited on weekends from late March to late October. Besides, a large-scale organic vegetable garden – which will soon cater to the best restaurants in Paris – is now being laid out and cultivated by the owners. Visitors to the Château will soon be able to buy fresh produce from this garden and, as from 2014, take gardening lessons on site!
Alla settimana prossima!