The Flea Market of Arezzo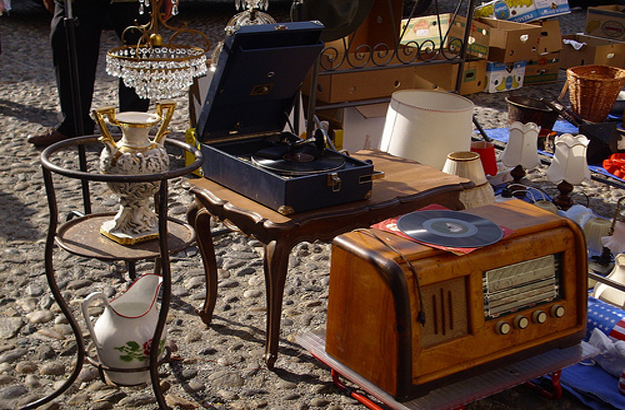 You are a stone broke student with three pennies in your pocket and an immoderate passion for antiques. Wandering up and down the alleys of a colourful flea market, you stumble upon – and fall in love with – a superb garden chair with three missing legs and a broken seat. To top it all, this exceptional piece of Italian craftsmanship happens to suit your purse. So, what do you do?
Right: you buy this chair with your last three pennies, and carry it back home having transient doubts about your sanity…
That's exactly what I did the first time I went to the Arezzo flea market. I was a young student of furniture restoration in Florence and a friend had told me about this antique market packed with vintage items and great bargains. Which is true: the 500 participating merchants always exhibit real nice pieces in their stalls and shops. Old furniture, musical instruments, grandfather clocks, decayed paintings, stained silverware, singular curios, ancient coins, connoisseur rarities… Chances are you'll come upon something that will catch your fancy.
Beautiful early 19th century hand-painted tiles is what caught my fancy the second time I went to the Arezzo market. I was setting up house in Florence and the state of my finances had improved a little bit, at last. When I saw those tiles, I just fell for them – and back in Florence wasted no time in incorporating them into my "new" kitchen counter.
Since then, I have returned to this flea market many times, taking back home with me, each time, a little something. By the way, this market excursion can also be a great opportunity to discover the art-laden town of Arezzo, with its Roman ruins, medieval walls and Renaissance architecture. I especially like being there on crisp sunny days. Or during the sweet Tuscan autumn…
The Arezzo market is held all year round on the first weekend of each month. I suggest you have lunch at either the Lancia d'Oro  or the Ristorante Logge Vasari, the two restaurants located under the Logge Vasari, the vaulted passageway at the top end of the square. You'll have a direct view over the bustling piazza and will also enjoy very good food.
One last thing: if you are there on a Saturday, don't hesitate to nip into the great Busatti shop I told you about in an earlier post: http://www.trustandtravel.com/blog/rustic-elegance-at-its-best/. You won't regret it!