Play it Again, Alan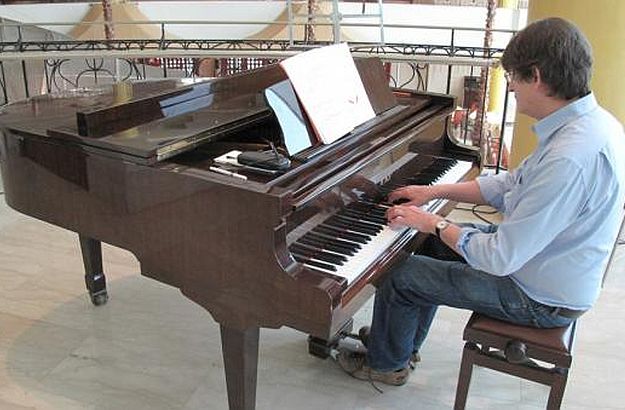 La Foce… This name, and the superb Tuscan estate which it designates, have now become familiar to you if you have been a regular reader of this blog. Trust & Travel was actually born there – a little while ago! – when the Origo sisters, owners of the property, asked me to help them promote and rent out some of the villas and farmhouses located on the premises.
Every summer, my family and I like to spend a whole week at La Foce. For us, it has become a sacred ritual and very enjoyable respite. We usually try to remain pretty idle during these seven or eight days. We invite friends over, the kids play and paddle in the swimming pool, and the grown-ups – I'm supposed to be one of them – indulge with little moderation in a variety of confabulations, aperitifs and inspiriting readings.
One of the books I read on my deck chair during our last stay at La Foce was Play it Again by Alan Rusbridger, the former editor-in-chief of The Guardian newspaper. I was in for a few lovely surprises…
Play it Again is more or less a journal in which Alan Rusbridger tells us the story of a challenge he decided to take up in 2010: to learn and master Chopin's Ballade No 1 Opus 23, which is reputed to be one of the most difficult pieces of the entire piano repertoire. His goal was to be able to play it in concert for his relatives and friends within a period of 6 months, which he had to extend to 12 and then 18 months, not only because of the highly demanding nature of this pianistic undertaking, but also on account of the exceptional turn world events were concurrently taking at that time.
Events of considerable impact such as the Wikileaks affair, Muammar Gaddafi's demise, Rupert Murdoch's phone hacking scandal… news which all kept eating at Alan Rusbridger's piano practice schedule, for he still had to manage and cover them at The Guardian within the context of an ever-changing newspaper industry, one confronted with the expanse of the digital age and social media. As he tells us in his captivating narrative, this task posed to him an enormous challenge too.
I also discovered, in Play it Again, that Alan Rusbridger and his family spend their summer holiday at La Foce, just like us! And icing on the cake, in the very same villa, La Gonzola, as I was able to infer by the description the author gives at one point in his book: "The holiday villa consists of four bedrooms above a ground floor which would once have been a winter shelter for animals and is now a very large ping-pong room with futons for spill-over guests."
A few pages further into the book, Alan Rusbridger recounts the memorable hours he spent in the company of Alfred Brendel, the great Austrian pianist, who happened to be staying in a neighbouring villa at the time of their encounter. You may remember that the Origo family organizes a classical music festival each summer. So running into famous musicians who holiday at the estate at any time of the year is nothing out of the ordinary. But reading about the aperitif Alan Rusbridger shared with Alfred Brendel, right on my favourite La Foce terrace, made me feel as if I was sitting next to the two men, eavesdropping on their tête-à-tête, a glass of Prosecco in hand…

Save