Olive Harvest Week in Tuscany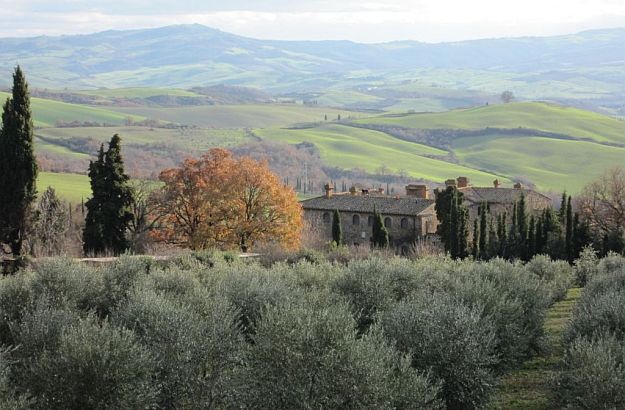 Let's start with a little quiz… The "thing" is edible, naturally liquid, and can taste of sage, artichokes, bananas, peppers, tomatoes or freshly cut grass. And when it is of high quality, it will scratch your throat a little bit…
And the answer is… Yes, olive oil. You've guessed right. And do you know where some of the best olive oils in the world are produced?… In the Bel Paese, of course!
A friend of mine was yearning out loud the other day: "I wish I could see how olives are harvested and turned into green gold…" So I was very happy to tell her about the "Olive Oil Week" to be held this year at the Chiarentana estate, from the 5th to the 12th of November, in the heart of the hilly and pristine Val d'Orcia, a UNESCO World Heritage Site.
If, like my friend, you are curious or passionate about olives and olive oils, this special seven-day event is definitely one you should not miss. The week's programme will give you a unique opportunity to melt into the groves and hand-pick the different varieties of olives as they reach their ideal stage of ripeness, as well as closely watch their immediate cold-pressing at the olive mill, right after the harvest, and understand why such alacrity is key to preserving their aromas and flavours.
You will also taste, needless to say, the fresh new oils as they trickle out of the presses, ranging in colour from deep grassy green to bright yellowy gold depending on their origin; then experience their diverse fragrances and savoury blends as they are paired with dishes from the nonpareil Tuscan cuisine.
As regards accommodation, you will be comfortably staying in one of the charming apartments of the Chiarentana fortified farmhouse, part of the historic La Foce estate, which I told you about in previous articles.
Your "Green Gold Week" will also be filled with a wide range of outdoor, cultural and gastronomic activities such as cooking classes, winetasting events, dinners, barbecues, country hikes, dips in hot springs, visits to hilltop villages, castles, museums and sheep farms… All of this, and much more, for a very attractive base price of 1950 €!
To receive the detailed programme, please drop us a line at info@chiarentana.com, or just give us a call: +39 0578 69101. You may also find useful information on this website: www.chiarentana.com.
So, will I have the pleasure to see you in November in the olive groves of the Chiarentana?

Save
Save
Save
Save