Chestnut Wisdom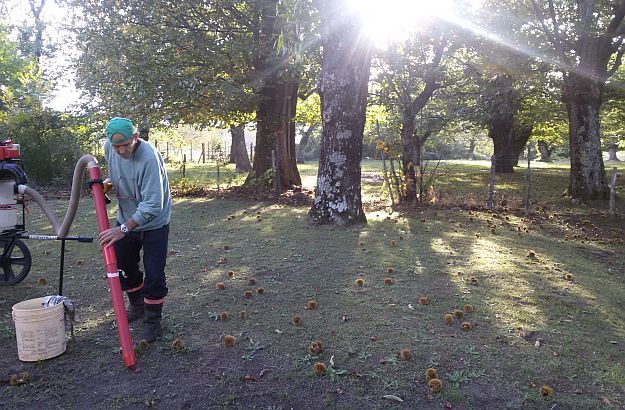 Carry a chestnut in your pocket and you'll never run out of money… No, this is not a piece of advice that I'm trying to give you. It's a German saying: Eine Kastanie in der Tasche und du hast immer Geld.
When I was a student in my teen years – a penniless student, – I did carry a chestnut in my pocket for several months. Not much happened in terms of personal enrichment, unfortunately. So I gave up on the chestnut trick after a while. But one thing I have never given up on is my long relaxing walks in the chestnut groves of Tuscany.
During my last chestnut hike in early October, on the Southern side of Mount Amiata, I ran into Alessandro, a middle-aged chestnut farmer and a very friendly man. I was intrigued by the machine he was using to collect his castagne. I had never seen such a device before.
"You're using a funny contraption there, Alessandro. It looks like a hoover for chestnuts!
– Well, it saves my back. I can't bend down to pick them up anymore. I have back problems. What's your name again?
– Katharina.
– Well, give it a go, Katharina, he said as he held his machine out to me."
So I did try out the funny device for about a minute or two. It was fun. Then Alessandro filled a large bag of chestnuts for me.
"Oh, thank you so much, Alessandro. Now I'll be a rich woman soon, no doubt!"
He looked at me in wonder. I asked him whether he knew about the German saying: "Carry a chestnut in your pocket…" He had never heard of it, and smiled:
"Signora, I'm afraid your German saying is disconnected from reality, or else I would have become rich a long time ago!"
We both laughed, then I walked by myself through his beautiful chestnut grove to take several photos.
When I came back to Alessandro to thank him once again and shake hands, he said to me:
"You know, Katharina, chestnuts used to keep people from starving here in Tuscany. They were, for centuries, along with the flour made of them, the staple food which got the population through winter. How about this proverb: "Carry a chestnut in your pocket and you'll never suffer from an empty stomach…"
Food for thought…

Save
Save