The Contemporary Mountain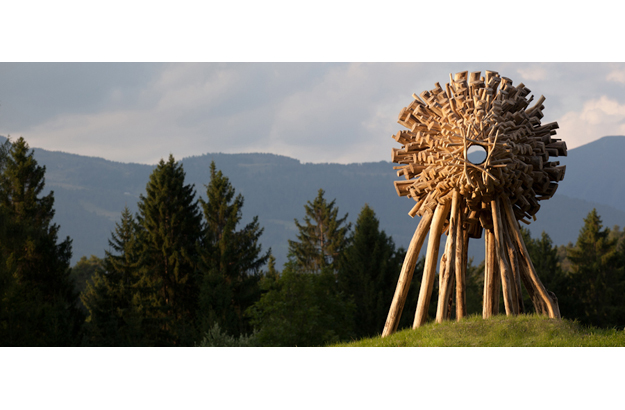 "Have you ever been to the Arte Sella  biodegradable exhibition, Katharina?
–        The what? Biodegradable exhibition?! Where on earth is that being held? And for how long? If it's biodegradable, I guess we have to hurry if we want to see it!"
My reply made my friend laugh. "No, we don't have to hurry", he said.
The Arte Sella exhibition is an outdoor art project located in the heart of the Valle di Sella, a beautiful valley that can be reached from the town of Borgo Valsugana in Northern Italy's Trentino-Alto Adige region.
What makes this project unique is that the vast majority of the works exhibited there are "sculptures" made of natural materials such as wood, stones, leaves, tree branches and tree trunks. In an early manifesto written for the Arte Sella project, one could read: "The works come out of the landscape, they inhabit it and, according to nature's time scale, they return to it again."
When it was first inaugurated in 1986, the Arte Sella art space received a skeptical welcome from the local community. But today, the park – as well as the dance, theatrical and musical events that are also organised here – is a source of local pride. It also attracts around 80,000 visitors a year, and has been nicknamed by some "The Contemporary Mountain".
Over the years, the Arte Sella Association has recruited more than 200 contemporary artists from all over the world to create the works that are or have been exhibited in the park. As can be seen from the uniqueness of each work, the participating artists have to comply with no other guidelines than the following: make sculptures which portray a respectful relationship with nature and which will be left to decay until the environment reabsorbs them over time.
Two "art trails" can be followed to visit the park. The main one, The Arte Natura route, is about three kilometers long and can comprise up to 25 different works at a time, most of them standing alongside the trail or cleverly camouflaged amidst monumental trees. The second possible itinerary, the Malga Costa, begins at a former cowshed which has been restored and turned into an event hall and documentation centre.
Lying 35 km from Trento (and 100 km from Padua), the town of Borgo Valsugana and the Arte Sella park can be reached by train on the Trento-Bassano-Venice railway. The exhibition is open daily from 10 am to 7 pm in summer and autumn (5 pm in spring and winter). In case of bad weather, I advise you to telephone first in order to make sure that the park can be accessed. The phone numbers are:  0461761029 (Malga Costa) or 0461751251 (Spazi Livio Rossi), website: www.artesella.it.
Enjoy your visit!