Leaving no Scrub Unturned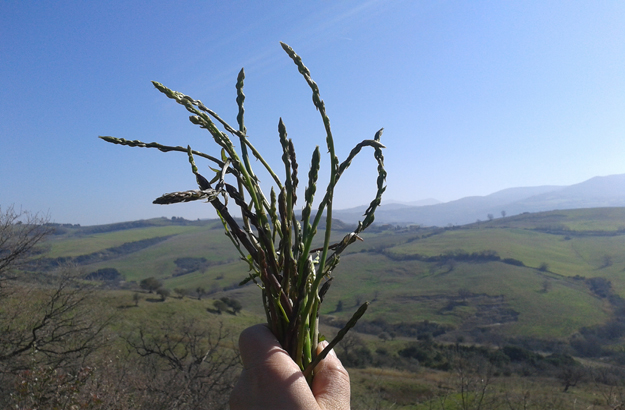 This week, I am going to teach you how to pick the Asparagus acutifolius in the Italian fashion. How about that? Oh, by the way, the Asparagus acutifolius is more commonly known as "wild asparagus", a herbaceous, perennial plant found throughout the Mediterranean basin. The Latin name acutifolius means "thorny leaves".
The flowering of almond trees is one of the first signs of spring in Italy. But another good indicator that winter is coming to a close is when you start seeing people walking along countryside roads in quest of wild asparagus. While it loves to mingle with other plants in the macchia (scrub), wild asparagus also grows happily on roadside escarpments.
The true asparagus hunters will not hesitate to ditch civilization and plunge right into the underwood, where the best asparagus harvests can often be made. After their crop, these enthusiasts normally reappear with bunches so big – and arms so scratched – that they need both hands to carry them!
Pencil thin and greenish brown, reaching on average 30 to 70 centimetres in length, wild asparagus is not easily spotted if you are not accustomed to probing for it. I, for one, still have to become an expert at it after years spent foraging for it. Your best bet is to first look for the whole plant, which looks like a slightly thorny scrub, then try to spot new shoots around it. The taller these shoots are, the more you will have to cut away, though, as the slender stalks get woody very quickly. And beware! The warm spring sun is loved by snakes too, which hide and lurk underneath the scrubs. These creatures don't like to be disturbed. So if you want to do as the locals do, wear proper shoes and tread loudly.
Depending on the weather, asparagus foraging can take place from the mid of February to early May. If the winter has been mild – like this year – you will see Italians eating their first frittata di asparagi  as early as Valentine's Day. If you pick wild asparagus in late spring, just use it for a tasty vegetable broth. And don't get discouraged: even a handful of this thin, slender plant will manage to leave its gentle scent in a simple frittata!