The Great Mercato Centrale in Florence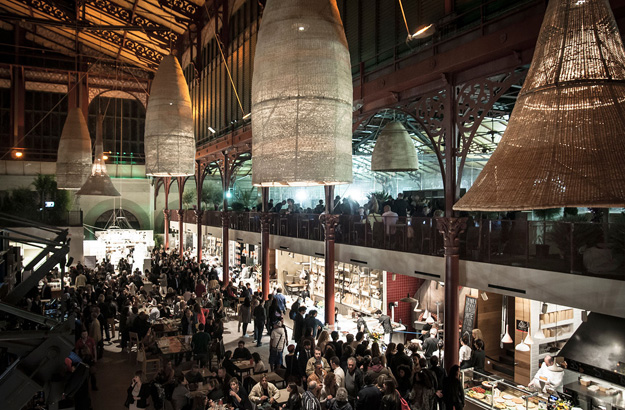 One of my favourite places in Florence is the Mercato Centrale, also known as the Mercato di San Lorenzo, the largest food market in town. A beautiful glass and cast-iron construction, it was designed over 140 years ago by Giovanni Mengoni, an architect who also built the famous Galleria Vittorio Emanuele II in Milan.
Inside the market, the countless shops, artisan vendors and independent producers offer an incredible variety of foodstuffs, delicatessen and other grocery items – fruit and vegetables, meat, fish, pasta, cheese, wine, herbs and spices… Roaming the nooks and crannies of the market, you will encounter, among other niceties, rabbits and chickens with their heads and feet still attached – most of them inanimate, though, in case you wonder.
One of my favourite things is to browse the market for fresh artichokes. And when luck is on my side, I come across a vendor who prepares them for me on the spot, so they can be eaten raw as a pinzimonio, Italian-style crudités which are dipped in olive oil and mixed with a touch of salt. A delight!
Aside from grocery shopping, you can also have a great lunch or late-afternoon snack at the Mercato. On the newly renovated first floor, dozens of food stalls will serve you the best Italy has to offer. My recommendations: a heart-warming Tuscan peasant soup or a mouth-watering slice of pizza with Buffalo mozzarella. And let's not forget the wine, of course!
Open daily from 10am to midnight, and located only five minutes away from Florence's main train station, the Mercato Centrale is also a great place to hang around in the evening to enjoy an aperitif, do some people-watching or attend a little spettacolo… By the way, have you read our post on Florence's artisan quarter? If you haven't, you should!