Artichoke Hearts in the Heart of Tuscany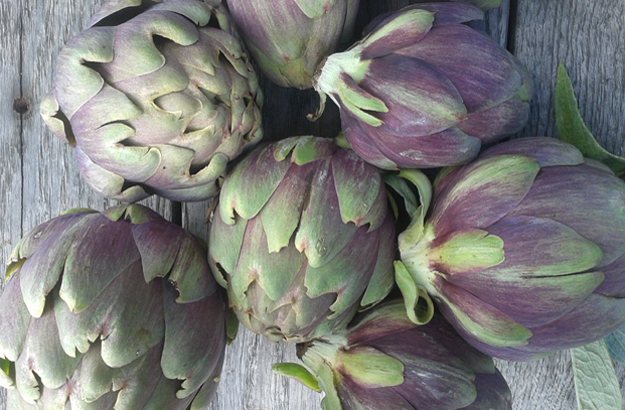 "A woman is like an artichoke: you must work hard to get to her heart." You will never guess who said that… Inspector Jacques Clouseau. Yes, the French – and always gallant – police detective featured in the Pink Panther, the famous movie series on the art of sensible investigation. Remember?
Italy is one of the biggest producers of artichokes in the world, along with Spain and Egypt. Italians love artichokes, and so do I. When I buy my first bunch of fresh artichokes in early spring – that's the time of year when this delicacy comes into season, – I always think of that April day when a friend and I discovered the great Chiusure in Piazza, a popular food festival mainly dedicated to the carciofo, the artichoke.
A Tuscan village lying south of Siena, Chiusure offers some of the best views one can have of the Crete Senesi (the "Siennese clays"), a hilly area which, in places, has a barren, almost lunar aspect due to the distinctive grey colouring of its soils. Chiusure is also within a stone's throw of the splendid abbey of Monte Oliveto Maggiore, a large Benedictine monastery mostly made of red bricks and famous for the treasures it jealously keeps in its cloister: magnificent frescoes painted by Il Sodoma (Giovanni Antonio Bazzi) and Luca Signorelli.
But back to our artichokes… You can get to the little town of Chiusure by car, of course. But here is a suggestion: drive to San Giovanni d'Asso instead. It's a village lying about 4 or 5 kilometers south-east of Chiusure. A nice hiking trail links up the two municipalities. You will need about two hours to cover it by foot, and on the way you will enjoy a mesmerizing scenery. And when you finally arrive in Chiusure, you will just be dying for a generous portion of fried artichokes – or several other savouries – and a good glass of local wine!
In any case, however you choose to get there, make sure to arrive in Chiusure before noon, or else you might run into long queues of people waiting to place their order. Chiusure in Piazza is a very popular event in southern Tuscany. People often stay there the whole day to digest their lunch, visit the local exhibitions and listen to the live music of a marching band studded with majorettes.
This year, the Chiusure in Piazza will be held on April 25 and 26. I hope to see you there!