ONE OF SIENA'S HIDDEN TREASURES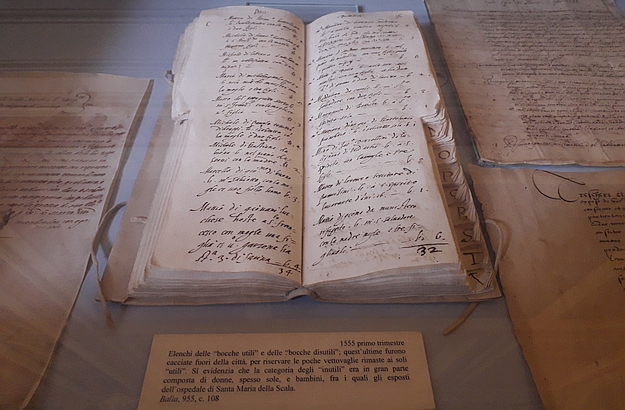 On October 5 of the year 1554, more than 250 orphans were bluntly expelled from the Republic of Siena. The city had been under siege for 9 months and its government decreed that the best way forward to hold out against the enemy was to get rid of its bocche disutili, its "useless mouths". And during the following months, another 4000 citizens, mostly children, unmarried women and elderly souls, were sent packing by the same token.
Meticulously drawn at the time, the gruesome list of both the hapless bocche disutili and the more fortunate bocche utili, the Sienese citizens who were allowed to stay in the city, can be seen today at the Museo delle Biccherne of the Archives of the State of Siena.
Located right off the Piazza del Campo, the little-known museum can also be visited for the less heart-rending historic documents it is home to. The Italian word Biccherna refers to what used to be, in the Republic of Siena, the Chancellery of Finance. For centuries, the covers of the successive Biccherne's leather-bound accounting books were exquisitely painted, some by the city's foremost artists such as Ambrogio Lorenzetti. Turning away from the typical religious and biblical topics favoured at the time, the 105 biccherne covers which make up the museum's collection depict detailed secular scenes often taking place in the accountants' offices. The oldest book of the series dates back to 1258!
Other interesting documents in the museum include Giovanni Boccaccio's testament as well as a series of items that tell the stories of the Sienese citizens mentioned in Dante's Divine Comedy.
The Museo delle Biccherne – the website of which is only in Italian – is open from Monday through Saturday until 1 pm, with hourly visits accompanied by a guard – not a guide! – at 10 am, 11 am and noon. To find the museum, enter the Palazzo Piccolomini courtyard from Via Banchi di Sotto 52, and take the stairs on your left up to the 4th floor. The building faces the Piazza del Campo. By the end of the tour, the escorting guard usually opens the doors to the balcony. Ask, in case the guard neglects to, for the great view you'll enjoy from this "vantage point" will definitely be one of the rewards of your visit!