Emergency in Tuscany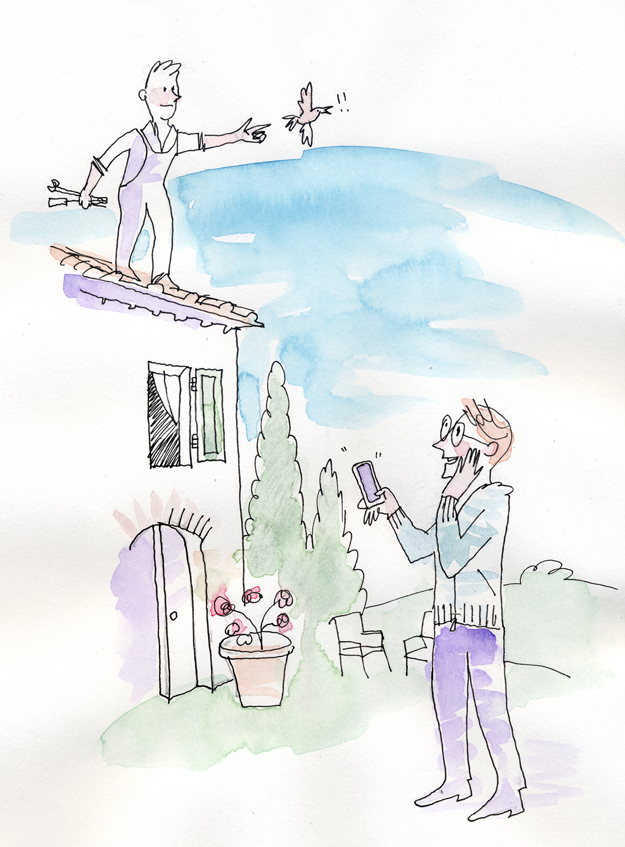 Sunday morning. I'm having a lie-in and am sleeping like a log. Sheer bliss.
My mobile phone, on my bedside table, rings. I wake up with a start and answer the call.
" Hello?
– Katharina? a male voice asks at the other end of the line.
– … Yes?
– This is Frank Krämer. Sorry to disturb you on a Sunday.
– Doctor Krämer? How are you?
– Fine, thanks, except for my internet connection: I lost it an hour ago and it hasn't come back yet. I absolutely need one, as you know!
– Oh, sorry to hear that! Well, let me call Arturio right away, the manager of the estate. I'll ask him to check this out as soon as possible, and I'll phone you back.
– Many thanks, Katharina!
Dr. Krämer has just arrived at Il Mulino – the farmhouse he has rented for two weeks, – with his wife Susanne and his two children. They have driven all the way down from Munich.
When Dr. Krämer, a business lawyer, called our Trust&Travel office a few weeks ago to make his holiday booking, he indicated to us that he needed a house with a reliable internet connection, to be able to work on and finish an important report during the first few days of his Italian break. So we recommended our Il Mulino  residence, equipped with satellite access to the world wide web.
"Arturio, this is Katharina, sorry to call you on a Sunday but there's a problem at Il Mulino with the internet connection. Our client badly needs it to finish a report!
– Is that so? Well, I'll take care of that illico presto, Katharina, don't worry!"
Without further ado, Arturio makes a beeline for the local café, where the electrician who had installed Il Mulino's  satellite dish is having coffee with some of his friends. A coffee he adjourns without a second's hesitation in order to dash to the scene of the breakdown. "Sorry, pals, an emergency is an emergency!"
The scene of the breakdown is the roof of the farmhouse, onto which he climbs with his assistant, his adolescent son. Both the manager and the owner of the estate stand at the foot of the ladder, pouring out advice to the electrician:
"Be careful not to get electrocuted, Massimo!
– I will if you keep disturbing me!"
During this delicate intervention, I ring Arturio a couple of times to find out how things are going:
"Our man is on the roof, Katharina, grappling with the bird of ill omen!
– The what?…"
It turns out in the end that a bird managed to get trapped in the satellite dish, causing its disruption. After saving the creature's life, the electrician fixes or replaces a few cables. The whole operation is over in 30 minutes.
Dr. Krämer is relieved and very happy to have his internet connection back. To thank his rescue party, he uncorks a bottle of a great Italian white wine. It's almost noon, the sky is blue, the conditions are perfect for a friendly aperitif. Sheer bliss!
So, am I telling you this little story today to show you that I care for my Trust & Travel clients?… Yes, I am! Because I do care for my clients. Well, I try!