We are in the New York Times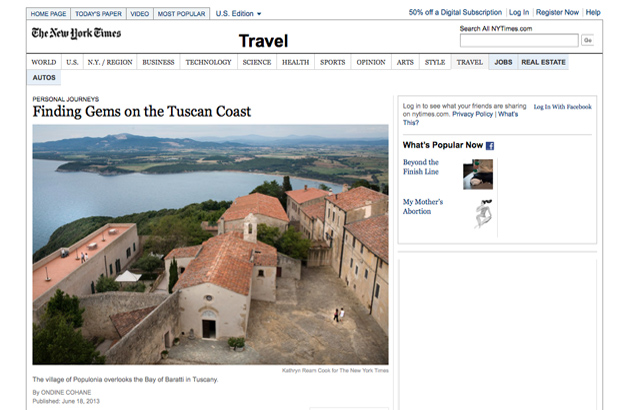 Yes, Trust&Travel has recently been mentioned in a New York Times article entitled "Finding Gems on the Tuscan Coast"!
Needless to say, I'm very happy about this, all the more so since I didn't expect it at all. An American client of mine – who has also become a good friend over the years – phoned me up two or three days after the article was published:
"Good shot, Katharina! How did you manage to get into the New York Times?
– I didn't do anything! I guess the journalist found out about our website. And positive feedback from clients like you might have helped as well…
–Well, I haven't called them up, if you want to know!"
This June 18 article was published in the "Travel" section of the New York Times. A two-page article full of useful information and practical advice.
In my view, finding "gems" on the Tuscan coast is not the most difficult thing to do; finding the "hidden treasures" is. The gems are strewn all over the region, and therefore easy to come across. Many of them are well-known, like the beachfront playgrounds and hilltop villages of Capalbio and Populonia, just to name these two. Crowded places, that's for sure, but definitely worth a visit.
But if your main interests lie in the "hidden treasures", that is quieter, pristine, authentic and even secluded places, the well-documented New York Times article also tells you where to go to find them.
In many of my previous blog posts, I told you about some of these hidden treasures, as well as the villas and residences Trust&Travel rents out in the area. The Maremma Regional Park, for instance, with its unspoiled stretches of seashore and endless hiking and biking trails. The World Wildlife Fund Park just outside Bolgheri, a lovely seaside town famed for the great wines its nearby vineyards produce. Talamone, a medieval village lying on the edge of a cliff and built around a superb 13th century castle.
The truth is: almost anywhere you'll choose to go within the Tuscan littoral, your heart will follow the placid ebb and flow of the Tyrrhenian Sea, and then wander off nonchalantly along the secret trails and pathways of the magic hinterland…