A Mystery Garden in Tuscany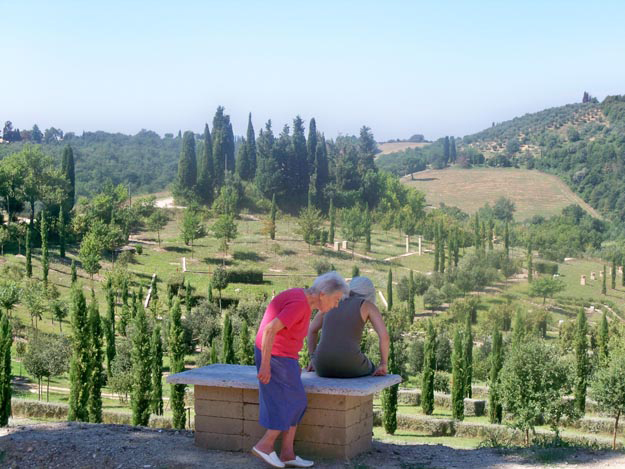 This week, I am taking you to a most unusual "mystery garden".  It is nestled in the small Italian town of San Giovanni d'Asso, not far from one of the gems of Tuscany, Siena.Relatively few people, even in Tuscany, know that this garden exists. True, it has only been around since 1996 – even though some of its parts convey the impression of being quite ancient. Blending the Italian style garden and the contemporary work of art, this enchanting and secretive place goes by the name of the Bosco della Ragnaia. It even has a nickname: "The Reinvented Renaissance Garden".
Designed by the American artist Sheppard Craige – who is still working on it, – the Bosco della Ragnaia features two distinct yet complementary sections. On one side, an open field bathed in the matchless Tuscan daylight and where Sheppard has been able to build and plant from scratch. On the other side, a shady woodland where one comes across lofty oaks, trimmed hedges and, the icing on the cake, a peculiar "collection" of manufactured objects.
So, be prepared for some perplexing or bewitching encounters… The Altar to Skepticism, the Oracle of Yourself  and the Center of the Universe  – to name just a few of these man-made entities, – will undoubtedly challenge your imagination!
I first met Sheppard Craige at a luncheon held at La Foce  – another of the estates that I work with and which has its own famous garden. "When I first moved here years ago, Sheppard told me, people heard about my project and thought I was a nutcase. But it didn't take long before everybody got enthusiastically involved."
And you will be enthusiastically pleased, I'm sure, when you visit the Bosco della Ragnaia during your next trip to Tuscany. 
See you soon !

Website: www.laragnaia.com
Open from dawn to dusk. Free admission.