Very Old Florentine Apothecaries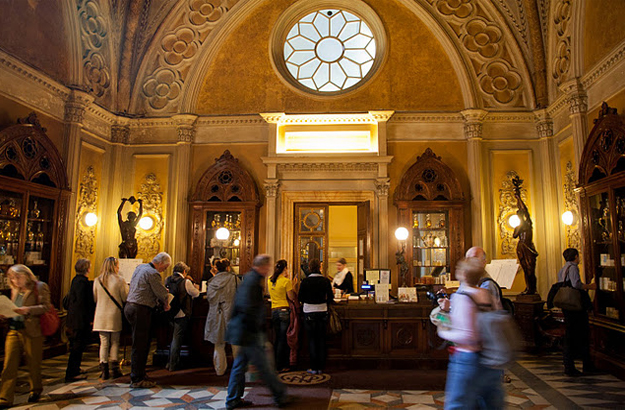 Pharmacies, drugstores, chemist's shops, dispensaries– whatever you call them – are not exactly the kind of place most of us like to hang around. We go there to buy some medicine and sometimes a few other items, and that's about it.
There is one pharmacy in Florence, though, that I love to linger at, and I'm not the only one to feel this way. Founded in 1221 – yes, 1221, no typo here – by the Dominican friars of the Santa Maria Novella monastery, it is located next to the city's main train station. Its name: the Officina di Santa Maria Novella.
I have been frequenting this drugstore for more than 32 years now – no typo here either! Still lying today within the monastery's grounds, as it was at the outset, it is actually both a shop and a laboratory. In the Middle Ages, friars at most monasteries used to grow medicinal plants in order to prepare creams, ointments and medications for the hospital ward of their convents. The Officina di Santa Maria Novella opened to the general public almost 400 years after its foundation, in 1612. So, if you add it all up: precisely 400 years ago!
The shop alone is worth an extended visit. It is housed in an old, beautifully decorated building and is divided into several large rooms. You can purchase there a variety of creams, soaps and fragrances, as well as candles, home scents, specialty food, liqueurs, ancient preparations and even lotions and deodorants for cats and dogs! All these products are made of natural ingredients of the highest quality, and the apothecary fathers' artisanal procedures are still followed.
Personally, I have always loved the nostalgic look of their packaging. Besides, many of their products have a story to tell, such as L'Acqua della Regina, a fragrance which had been created for Catherine de' Medici, a Queen of France originally from Florence and who used to have the Officina's products imported all the way from Italy to her French palace.
"Are you planning on dropping by the Officina soon, Katharina?" my dear mother asked me over the phone a couple of days ago. Since the beginning of my "Italian life", she has been sending me to the Officina at least once a year to buy on her behalf a dozen bags of pot-pourri, a balmy, enchanting blend of dried herbs and flowers from the Tuscan countryside. She loves to fill her house with the sweet scent it gives off, or to make her friends a present of these magic bags.
The Officina di Santa Maria Novella is located at Via della Scala, 16, and is open from Monday through Sunday from 9:30am to 7:30pm. Here is the link to its website:  http://www.smnovella.it