In and Around the City of Palladio (1)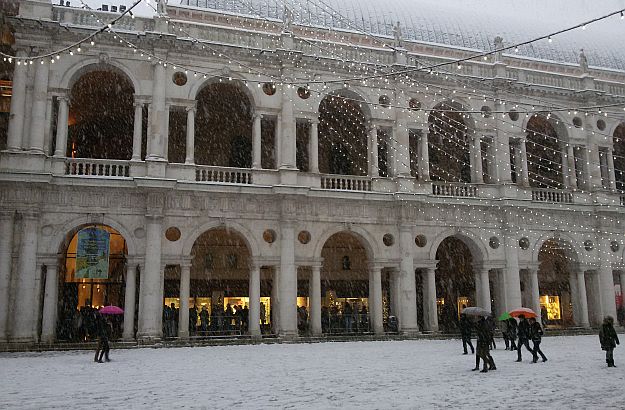 How about starting with a quick quiz? Here are the clues… It is a relatively small but very cosmopolitan Italian city. More than two thousand years old. Lying about 60 kilometers west of Venice. Its name has a Latin root meaning "victorious". Its steel, jewellery and textile industries have made it one of the country's richest towns. Together with the superb villas built by Andrea Palladio, the celebrated Italian architect, it was listed in 1994 as a Unesco World Heritage site…
Who said "Vicenza"?… Congratulations!
I love Vicenza. So much so that I'm going to spend this post and the following one telling you about it. I want to share with you my favourite local spots and help you organize your own cultural and gourmet itinerary in the City of Palladio.
It's an unchanging ritual: when in Vicenza, I always start my day with a cappuccino and a brioche at the Sorarù. Founded in the late 19th century, this pasticceria (pastry shop) has kept its original fin de siècle character, and many of its habitual patrons, as you'll see, fit the décor admirably.
The Sorarù is situated in the little Palladio Piazza right in front of the Palladiana Basilica, which in my view should be the first stop of any serious Vicenza peregrination. This sumptuous edifice has never been intended for religious purposes – basilicas were, originally, courts of justice and places of public assembly. The long and elegant arcade, which was added by Palladio to the pre-existing structure, is today home to a museum and a number of beautiful shops and bars.
One of these bars, the Borsa, is a must if you wish to blend with the locals while sipping your first aperitivo in Vicenza. It has a great atmosphere and a wide selection of drinks. I suggest you start with a Spritz Veneziano (or simply "Spritz"), a now world-renowned cocktail which originated in the Veneto. There are many Spritz variants, in fact probably as many as there are towns in Italy. But a common denominator is often the presence of Prosecco, an Italian white wine which is mixed with soda water and the likes of Aperol, Select or Campari.
The last time I was in Vicenza, it was snowing. So my husband and I decided to drop by the Doria 1905 hat shop, where I bought a nice wide-brimmed floppy. My better half went for a sportive large-checked cap. By the way, Vicenza and the luminous façades of its Palladian villas are absolutely spellbinding under the snow. The blend is magic!
Now we're hungry, aren't we? In my next post, I'll take you to one of my favourite restaurants in Vicenza…