My Favourite Leather Shops in Florence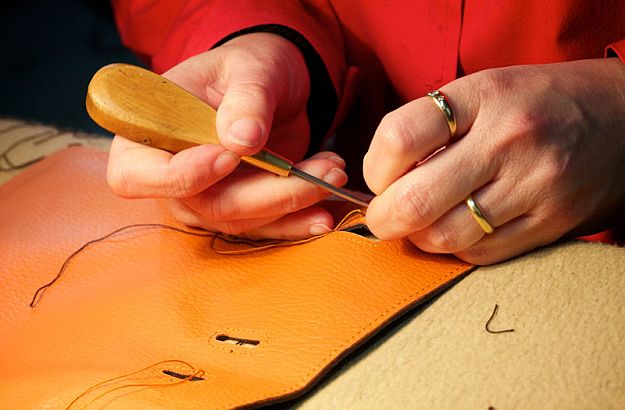 One of my closest friends has been dreaming of that for years: a dark green belt made of the best Italian leather.
She's lucky because Christmas is around the corner, and I know exactly where to find the belt of her dreams: in Florence, in one of the three leather boutiques I want to tell you about this week. I am also going to have her initials marked next to the buckle: ZZ.  No link to Zorro or ZZ Top.
Leather – I mean top quality Italian leather, not cheap imports, – has been tanned and processed in Florence for centuries, actually since the Middle Ages. Heirs to a long and precious tradition, skilled craftsmen cut and sew the hides to create a huge variety of bags, wallets, purses, gloves, belts, travel accessories and leather jackets, all of an exceptional make and quality.
Right in the heart of the old city, in an alleyway that will take you back in time, Cellerini is considered Florence's most elegant leather shop. One of my Italian friends, a knowledgeable art expert and the most elegant man I know, introduced me to this boutique a few years ago. This is where he gets gifts for his friends all over the world, and where the grand old families of Florence most often go to do their leather shopping. This is also where I found the dark green belt for my friend. They craft every single item by hand in their adjoining workshop and can dye it the colour of your choice: midnight blue, flame yellow, cupcake pink… Besides, you can easily order online (www.cellerini.it), and they speak English.
Top-notch Italian leatherware can also be purchased at the Piero Tucci shop and factory, located on the oukskirts of Florence. The famous Furla and Gherardini brands are also represented there alongside the house name.
What is great about this place is that you can visit the workroom and even meet the artisans. The traditional methods used to design, cut and assemble the Italian leather handbags, jackets, travel bags and other accessories – all made with the best Italian leather – will be explained to you step by step. You can get there by bus or taxi, or have a shuttle service pick you up in Florence if you arrange this in advance with the Piero Tucci offices. Here is the link to their website: www.pierotucci.com.
My last recommendation will be for the Scuola del Cuoio, located inside the monastery of Santa Croce. The Church of Santa Croce is one of Florence's most beautiful basilicas and the largest Franciscan church in the world. A community of Franciscan friars still lives there. It is also the burial place of some of the most illustrious Italians: Michelangelo, Galileo, Machiavelli, to name a few.
By going through a door located on the left side of the church, you will soon get to the former dormitory of the monastery, a large vaulted hall designed by Michelozzo, one of Florence's major Renaissance architects. This hall now houses the famous "School of Leather", the Scuola del cuoio, founded after World War II by the friars and two leather craftsmen. The purpose of their initiative was to give work to war orphans.
Leatherware of the finest quality is on sale on the premises. But even if you are not in a buying mood that day, you will definitely enjoy the visit.
I wonder what my friend is going to give me for Christmas… A pair of candy pink gloves made of top quality Italian leather?…  That would be cool!