Under the Tuscan Sun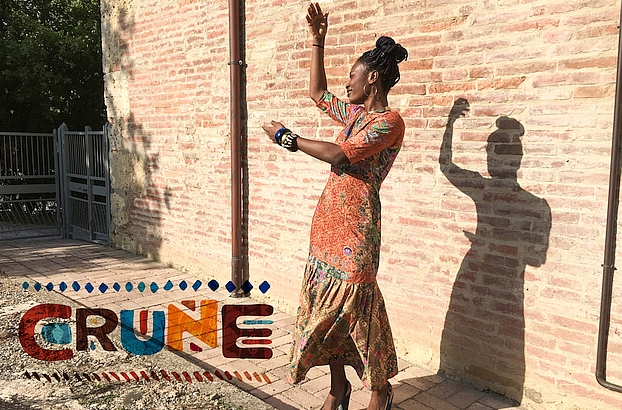 When actor Colin Firth, an Academy Award winner, and Eco Age founder Livia Firth decide to actively foster a little-known refugee project in Southern Tuscany, you can reasonably surmise that they are on to something. Last December, the famous couple visited Crune Lab – a hub which operates as a meeting place, support network and sewing workshop for migrants and refugees – and returned home with bagfuls of handmade textile creations!
I had heard about Crune Lab from Katja Meier, our irreplaceable collaborator in Tuscany. In one of our previous blog posts, I told you about Across the Big Blue Sea, the gripping memoirs which Katja had written about her involvement at an Italian refugee shelter. By the way, I have just learned that the film rights to this thought-provoking tale have been sold to the Equality Film production company, based in Germany – thumbs up, Katja!
Those of you who have read Across the Big Blue Sea may remember that Katja had gone to great lengths to start a sewing project for refugees in Tuscany. Unfortunately, things did not go as originally planned, and the project never got off the ground. However, the sewing equipment mentioned in Katja's book is now being put to very good use by the Crune Lab team.
Located a mere ten minutes from La Foce, one of our Trust & Travel properties in the Val d'Orcia, the Crune Lab workshop can be visited during the day and followed on Instagram or Facebook. You can also support Crune (an acronym for Creazioni Uniche Etniche) by ordering from afar one of their handcrafted creations – like the lovely book bags specifically produced for Across the Big Blue Sea. And if you don't have it already, you can get the book that will match your bag from all the major online retailers – isn't that cool?
One last thing: when Katja's story makes it to the silver screen, I will definitely let you know!