The Right Move at the Right Time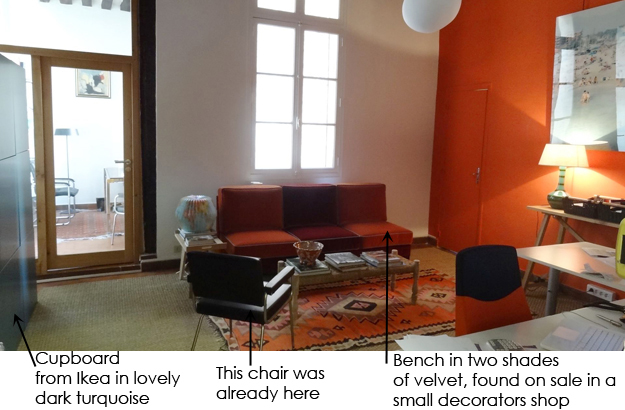 I am so excited about our new Trust&Travel Paris offices that I thought I'd tell you a little bit about them in this week's article.
As some of you know – some of you have even paid me a visit there – our previous headquarters were located in the posh but somewhat outlying 16th arrondissement, in the western part of the City of Light. Well, when I say "outlying", Paris being a relatively small city, they were not that distant from the central part of town. But compared to where our new offices are now: bang in the middle of Saint-Germain-des-Prés, the cultural and historical heart of Paris, one of its nicest boroughs!
If you're familiar with this area, we are now halfway between the Seine and the famous Café de Flore, and within a stone's throw of the Place Furstenberg, which is one of my favourite squares in Paris.
Furnishing and decorating the office space has been something I have relished doing – as you can imagine! The idea of having a whole wall painted in a vibrant Farrow & Ball orange came from my good friend Patrick Deedes-Vincke, and this kind of set the tone. From there on I felt confident to move onwards.
The "focal point" of the room is a large art photograph by Italian artist Massimo Vitali (www.massimovitali.com). I have hung it up on the orange wall; it looks great there. The opposite wall is lined with a modern coruscating Ikea cupboard with dark turquoise doors.
I have also bought a table and a lamp at a nearby shop, Flamant, a successful Belgian interior company that opened its Paris store in 2000 (www.flamant.com). As for my kilim carpet, I bought it at the Porta Portese fleamarket in Rome about 25 years ago!
The orange and dark red velvet sofa literally fell into my arms. I saw it in the window of a shop located in a side street I had never used before. The store was closing and having a great sale. I jumped at the opportunity, needless to say.
You too, I hope, will seize the opportunity and drop by our new offices next time you are in Paris. Clients, house owners, friends: you are all welcome!
Hope to see you soon!