Making "Pasta al Pesto" with the Kids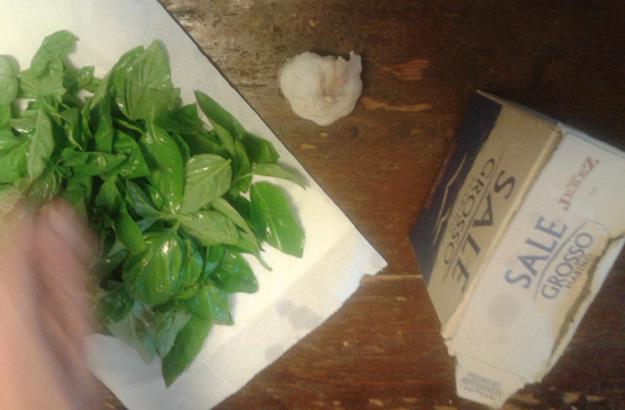 The reasons we, Northerners, love Italy are numerous. One of them, of course, is the sunshine and mild temperatures that reign all over the country when the rest of Europe is under grey skies and beaten by chilly winds.
Things, however, don't always turn out that way. Summer in Southern Europe is usually very dry, but this past July has been one of the rainiest Italy has ever seen. It was baaad.
To keep the "holiday feeling" from going down the drain with the rain, adults can always fall back on winery tours and visits to museums, among other things, and thus manage to keep their spirits up. But what about the little ones: the kids?
I'm not sure I could explain to you why exactly, but believe me, cooking Italian food is something children love to be involved in, rain or shine – not just gobble up the food, but take part in its actual making! There's something fun, playful about Italian cuisine.
Friends of mine, who were paying us a visit in July, had just bought a beautiful marble mortar during their guided visit to Michelangelo's famous quarries in Carrara. A rainy day seemed perfect to put this mortar to work with one of Italy's most famous recipes: pesto al basilico. "Hey kids, we are going to need your help!"
The name of the pasta sauce, "pesto", comes from the Italian verb "pestare", which means pestle, crush, pound. Children love to crush and pound the ingredients needed for the recipe with a mortar and wooden pestle.
So here is the recipe – described here for 4 to 6 people. You'll need 100 grams of fresh basil (washed and rinsed), 30 grams of pine nuts, one clove of garlic, 30 grams of freshly grated parmigiano (or pecorino romano, depending on your taste), salt, and extra virgin olive oil (the best quality you can find).
Put the clove of garlic and a pinch of salt into the mortar. Start pounding – or let the kids do it! – and, bit after bit, add the fresh basil leaves. Once the latter have been crushed, add the pine nuts and the extra virgin olive oil, and keep pounding until you have a "sauce".
Trofie is the classic pasta type served with a pesto sauce in Liguria. But spaghetti or linguine taste great with pesto too.
You don't have a marble mortar? Then use a small wooden bowl instead. You'd like to become a pesto expert? Why not book one of our recommended cooking classes during your next holiday at your Italian villa! Please contact Katja for info and prices – katja@trustandtravel.com.
Buon appetito!