Little Easter in a Great Garden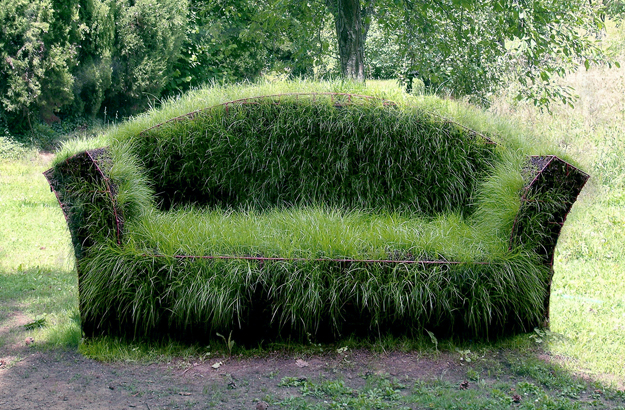 The Kiss… The Tomb of the Poet… Nine Astrological Aspects… Cathedral no 6… The Grass Sofas… The Eternal Lunch… An Island in an Island… The Beauty and the Beast… Make Something as Big as the Eiffel Tower… No, I'm not rambling, I'm just trying to arouse your interest.
What are your plans for this coming Easter? I have a great scheme for you…
About 60 km south of Siena, and within a stone's throw of the Tuscan village of Seggiano, lies an exceptional "sculpture garden". Unfolding over a vast 17 hectare area, this nonpareil garden was founded in 1991 by Daniel Spoerri, a Swiss artist and writer born in Romania in 1930.
Spoerri is regarded as one of the most important exponents of "object art", as well as one of the pioneers of the New Realism movement. He is also the inventor of what is referred to as "Eat Art", inspired by food, as you may have guessed. The Swiss artist has dedicated much of his career to the exploration of sculptural art through non conventional mediums.
Daniel Spoerri first launched his garden project, the Giardino, with a few art pieces of his own, then invited some of his friends to enrich the site with their own works: sculptures, land art units and installations made of all kinds of materials. Today, the Giardino is home to over 100 works crafted by renowned artists coming from more than 40 countries – Meret Oppenheim, Nam June Paik, Dieter Roth, Jean Tinguely, Giovanni Rizzoli, Eva Aeppli, Bernhard Luginbuhl, Pavel Schmidt, just to name a few.
These remarkable works – most of them starring humans, animals, objects and other unreal entities – are all organically integrated in their natural environment. Some of them even merge astutely into the surrounding olive groves, flower beds and chestnut trees. The effect is astounding. From the moment you walk through the iron gates, you feel as though you have entered the Garden of Eden – and indeed Spoerri's garden has been given this nickname in the past. Spoerri deliberately wanted to blend art with nature in order to demonstrate that the two are inseparable.
At the Giardino, the high season starts in April with the Pasquetta, the Little Easter, that is the Easter Monday, when Italians traditionally flock to the countryside with their friends and relatives. The restaurant of the Giardino, called Non Solo Eat Art, organizes a huge festive buffet on this occasion. Want to join? If you book in advance, you can! And as some of you already know, Trust&Travel offers some great villas and residences in the immediate vicinity of the Giardino, such as the beautiful Vivo d'Orcia.
So, shall we have the pleasure of seeing you there at the next Pasquetta?