Tuscan Bath in Women's Bay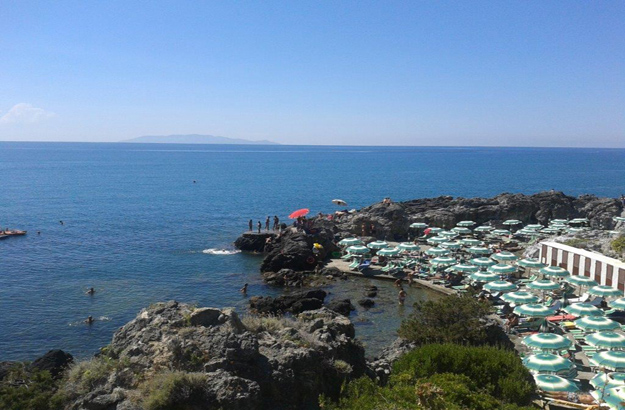 It was in June, last spring. My husband, daughter and I were in the Maremma, and friends of ours were visiting us with their two children. One morning, we decided to go to the town of Orbetello, all of us, to do some shopping and sightseeing.
It suddenly dawned on me, as we were having lunch, that we were close to Talamone, a tiny harbour town on the Tuscan coastline. I had read in a magazine about Talamone's public aquarium, which the children would certainly be delighted to visit. The ambient temperature was rising and we would all appreciate at this point something "refreshing". The kids jumped for joy:
"Oooohh! We're going to see sharks there? my daughter asked.
–        Well, maybe, I mechanically replied.
–        Giant octopuses too? the younger of our friends' boys squealed.
–        Well, I'm not sure about the octopuses, I cautiously answered, but amazing fish for sure.
–        Like the ones we saw in Barcolena? my daughter said…"
She meant "Barcelona". Anyway, we drove down to nearby Talamone and easily found the aquarium. It was open and it was… tiny. The kids' and husbands' faces fell when they saw the size of it, and the size of the creatures in it: small species from the Orbetello's nature reserve.
After less than 15 minutes of playing "local fish spotting", a peculiar game I had improvised to entertain the children, I had to face the facts and quickly think of something to erase the big disappointment you could read in the youngsters' – and husbands' – eyes.
We left the aquarium and, as we were all heading back to the cars under a scorching sun, I thought to myself: "Let's just go back to the villa and jump into the pool, everybody will be happy". I told the group to go ahead and get into the cars: "I'll just take a few photos of the view we have from here. I'll be right back."
I hurried to the tip of the headland to take my pictures and there, by some miracle, the perfect spot to have a dip appeared before my eyes: the Baia delle Donne, Women's Bay; and nestled between two small promontories, the nicest rock beaches you could find in the area, with crystal clear waters, deck chairs, sunshades and even a nice snack bar.
We found a little store in town that sold snorkeling gear and ten minutes later, we were all having a refreshing and much appreciated swim in Women's Bay. The kids enthusiastically recognized some of the species that they had "spotted" at the aquarium an hour earlier: "But they are much bigger here, Mummy!"
Even though it can get a little crowded in summer, I strongly recommend to you this little patch of aquatic paradise on the Tuscan coastline – lying about a half-hour drive away from our Trust & Travel Marsiliana, Cavallini and Fontanili estates!