Tuscany's Famous Marble Quarries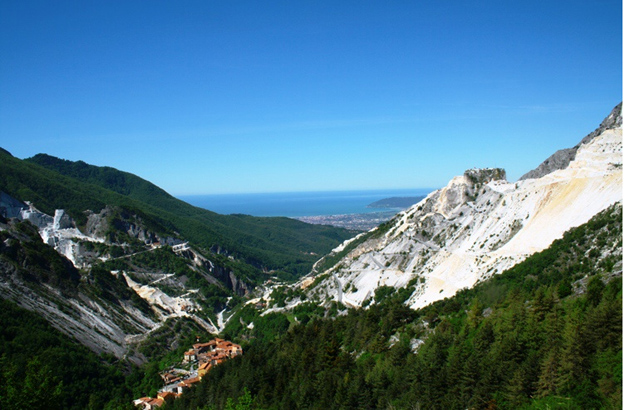 Victor Hugo once wrote: "Dear God, how beauty varies in nature and art! In a woman the flesh must be like marble, and in a statue the marble must be like flesh."
I love marble, and the one that comes from the quarries of Carrara, a Tuscan town in the province of Massa, is undoubtedly one of the most beautiful in the world. The Ancient Romans were the first to extract and use it – in the Pantheon and Trajan's Column, for instance. Later on, Michelangelo's David and many other famous Renaissance sculptures were carved in it.
When you're on the coast and look towards Carrara in the distance, the mountains in the background, the Apuan Alps, appear to be covered with snow, even is summer. Well, this snow is actually the gigantic cave di marmo, the huge exposed caves of marble which men have been exploiting for two thousand years.
I had always seen these quarries from afar until I met Serena, a local and knowledgeable guide who convinced me that I had to muster my courage – I'm a little afraid of heights, I admit – and see those quarries up close.
We explored the illustrious mountains in a jeep, which smartly negotiated the many bends and zigzags along the way, and avoided – thank God! – the huge trucks and marble-moving machinery that we came across during our ascent.
When we finally reached the marble quarries, I was quite impressed by their size and number, and by the breathtaking views you have from there of the Mediterranean sea and the surrounding villages. Even though the equipment and machinery used to extract the marble have modernized over time, the technique employed to cut the precious stone is basically the same as the one the ancient Romans resorted to.
If you want to visit the area on your own, just follow the A12 motorway along the Tuscan coast and take the exit leading to Carrara, where you'll find indications for the two quarries which can be visited by tourists. The Fantiscritti marmo tour will take you into an indoor quarry. Whilst this is fascinating, with good weather you should opt for a visit to the outdoor quarries with the guides from the Carrara marble tour (10 Euro/adult and 5 Euro/child) so as not to miss out on the view and the amazing drive up the mountain.
For more background information on the area, its people and the local food (the famous lardo di Colonnata), I recommend you take the guided tour with Serena. Tours can be booked via Trust&Travel. Send an email to katja@trustandtravel.com and Katja will send you a detailed description. Prices start at 90 Euro per person.You may also want to try out her tips for a lunch in the area: www.osterianellapia.it  and  www.damafalda.com.
Enjoy your visit!