Conversation with country estate owners: Francesca Papafava, Part 2.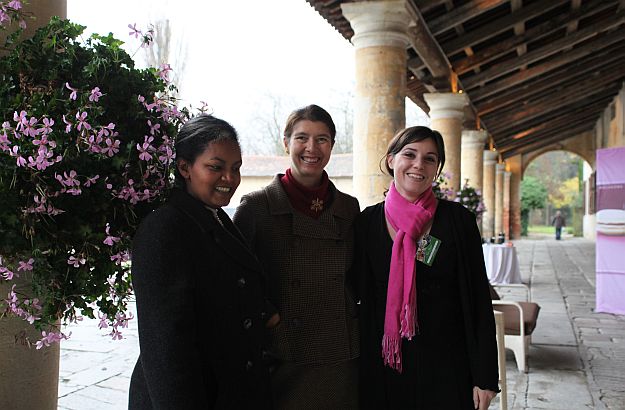 In the last but one Blog, that perhaps you have read, in a one-on-one conversation, Francesca Papafava describes the history of her Country Estate and imparts a few insights in to her family life.
Katharina: How many people currently work at Frassanelle? How long have they been there?
Francesca: We currently have 9 employees, the eldest of whom is our gardener who is 75!
How do you see your relationship with them?
I would prefer to look at them as my business partners.
Describe them to me a little…
You know, some of them come from other countries. Saba, who has been with us since the beginning is from Ethiopia. In the past she took care of my son, that is, when he was still a child. She is wonderful with children and is always in a good mood. She plays with them and cooks either French fries or Escalope Milanese. Many guests would have taken Saba away with them. Perhaps some return for this reason or because of Anna. Anna is our Receptionist who knows everything; what takes place in and around the property. When a guest gets worked up about something, she calms them down wonderfully.
Who indeed was the worst guest?
Oh, once we had a man from Germany, who complained that there was no key to the bathroom door. I had only just begun to rent rooms and had no experience. He shouted at me and totally lost his temper. Unbelieveable.
Which guests have surprised you most?
Once an Art collector from France came to stay. We had to remake the beds as he and his wife would only sleep in sheets made of goat's skin.
We had a Russian family who have been visiting for the past 6 years. When their youngest child was 4, they had to participate in an entrance exam to the Moscow School of Music. The mother wrote and said that they could only come to Frassanelle if there was a piano, and if not, that I should get one. Fortunately, we had just been given a piano, so we succeeded. After the holidays the child passed the entrance exam and has been winning music prizes around the world ever since. Each year they return to stay for two weeks holiday. Frassanelle is filled with wonderful piano music.This will be their 7th summer.
What do you wish from your guests?
Well, I hope that they love Frassanelle as much as I do. That they appreciate how much trouble we take, particularly over small things. Otherwise I would guess constructive criticism, tips so that we can improve what we provide.
The Italians founded Banking. What have you experienced as a result of the Euro- crisis?
Oh dear. I have only recently paid off my first loan and I wanted to take up another one to fund further Restoration work. The Bank demanded unrealistic terms and conditions. I don't understand it as there are models that state that 10 euros that don't sit in the Bank but instead are in the Marketplace, profit more people. The Bank seems to be indifferent to this. In the past, the Banks helped me but now I feel as though I have been left in the lurch.
Imagine, money were not important. What would you do with Frassanelle in your wildest dreams?
I don't have fantastical dreams as I am very down to earth. I would like Frassanelle to be self-sufficient. I would liked to practice organic agriculture; fruit, vegetable and perhaps a pair of cows and goats so as to produce good meat and cheese. Perhaps I would also make the Villa into a hotel. I love to provide guests with music, literature theatre and to treat them to fantastic food, in the way that villas in the Veneto used to provide. And then I would like to invite artists from all over the world and I would like own a business. I would like Frassanelle to be a living, free-spirited centre of cultural life as well as the core of my huge family.
Francesca, it sounds wonderful. You will do it…
And in 2 weeks there will be another adventure story about Frassanelle.
Until then,