A Seafood Heaven on the Tuscan Coast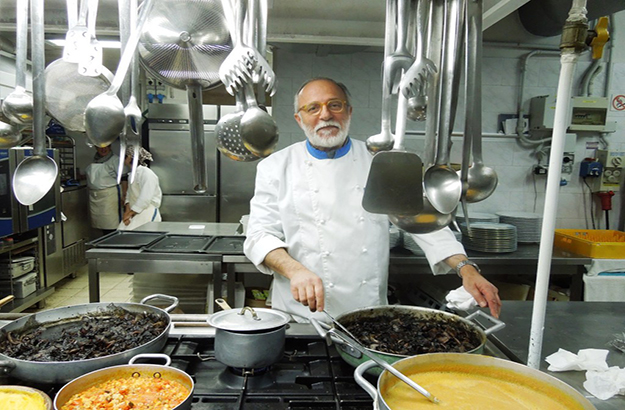 "You don't know Lo Zazzeri, a friend of mine asked me once, disconcerted? Luciano Zazzeri, owner and chef of  La Pineta ?!
–        No, I don't think I've ever heard of him. La Pineta, you're saying?
–        But, Katharina, La Pineta  is just a short walk from your Tombolino villa!
–        Is it?!…"
So that's how I discovered one of Tuscany's best seafood – and seafront! – restaurants: La Pineta. It lies, indeed, in the vicinity of the charming Tombolino Bolgheri estate, featured in our Trust&Travel rental catalogue and which also happens to be looking onto the sea.
Located on the beach of Marina di Bibbona, a town on Tuscany's central coastline, La Pineta is not easy to find, because it lies at the end of a winding dirt road; and it looks from outside like a simple beach bar and deck chair rental place. But it is actually a very good restaurant emblazoned with a Michelin star, and where you will find, believe me, genuine seafood treasures. Plus a very friendly atmosphere!
Luciano Zazzeri – "Lo", as his friends and relatives call him, – grew up in a world of delicious home-cooked meals. But he also draws on his experience of having spent decades fishing for the very specimens that are served up daily at La Pineta. An experience that accounts for the profound respect he has always had for the sea and its bounty, and which is clearly reflected in his unique cooking style.
Yes, Luciano's dishes truly bring the essence of the sea to your palate, allowing the diverse tastes to express themselves without unnecessary flourishes or distracting flavours. Yet, the chef's cuisine remains inventive and inspiring. For instance, I suggest you try the calamari and sage risotto with black truffles from the Bibbona pine grove – by the way, the Italian word pineta means pine grove. You will also enjoy, I'm sure, a plate of Luciano's Spaghetti alle Vongole, handmade pasta enhanced with salty clams coming straight from the beach, and with a clever combination of garlic, parsley and white wine. A sheer delight!
The next time you find yourself in Bolgheri, or if you happen to be one of our guests at the Villa Tombolino, make it a point to drop by La Pineta. You will definitely want to make a reservation, though: the restaurant is booked weeks ahead in summer! However, guests of the Tombolino estate will be able to get some help with this from Allegra, the owner's daughter, who might manage to get them a table at short notice.
You might like to read more about this fabulous restaurant in Frances Mayes' blog: http://www.francesmayesbooks.com/tag/luciano-zazzeri/. Here are La Pineta's address and telephone number: Via Cavalleggeri Nord, 27 – Marina di Bibbona. Tel: +39 0586 600 016.
Buon appetito!