My favourite restaurant in Venice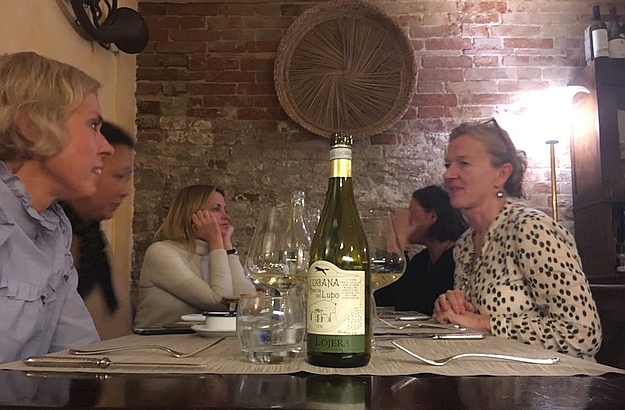 During the time when I was working on the renovation of our Palazzo Ca'nova, I took countless walks in the area around it, just to explore, stretch my legs, get some fresh air…
On one occasion, I ended up on the Campo dell'Angelo Raffaele, a lovely piazza in the Dorsoduro neighbourhood. I have no idea how I landed up there, but this is the rule in Venice: getting lost in its labyrinth always leads you to the best surprises.
It was a mild summer evening, and the one and only restaurant fronting on to the piazza was teeming with people. But I managed to find a free table and, believe me, had one of the best meals ever!
So, when we had our Ca'nova Instagram event this past November, needless to say that I took my four special guests to my new favourite restaurant in town: Trattoria Anzolo Raffaele. The temperature, that night, being a bit on the cool side, we had our dinner indoors, where the atmosphere was great too.
The restaurant's menu is based on the best ingredients one can find in Italy. We could taste this in every single dish we had: the risotto, the gnocchi, the wide range of desserts, and the fresh goat cheese which was accompanied with a jam made of Tropea's much sought-after red onions.
On the sommelier's recommendation, we washed down our dinner with two bottles of Lugana Riserva del Lupo, one of the best white wines I had drunk in a long time.
Having had our highly enjoyable fill of good food, laughter and confabulations, our little group left the restaurant not long before the witching hour, and headed back unhurriedly to our Palazzo Ca'nova, enjoying on the way the transcendent beauty of the Serenissima at night.
Should you like to make a reservation, just follow this link: www.trattoriaanzoloraffaele.it (on the contact form), or call this number: +39 041 523 7456.
Buon appetito!