Sure-footed with Venetian Furlane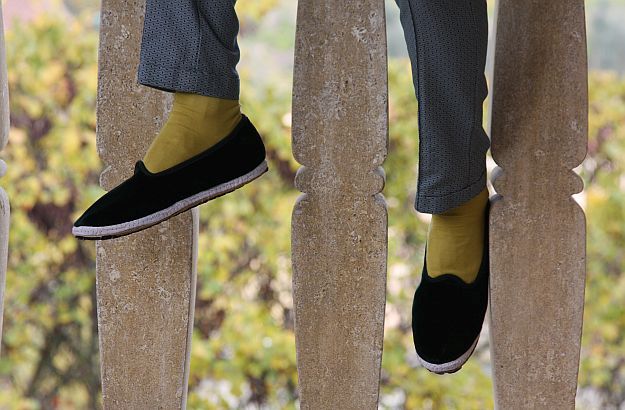 In order to properly oversee the restoration, decoration and final touches of our new exclusive project in Venice – the Ca'nova Palazzo with its four superb holiday rental apartments, – I have had to spend quite a bit of time over there, as you can imagine, repeatedly shuttling back and forth between the City of Light and the Serenissima.
At the beginning, everytime I was about to run out to catch a flight from Paris, my daughter used to pull a face and gently lament: "You're not going to Venice again, Mummy, are you?"
To make up for my parental absenteeism, I would return home, every time, with a little souvenir for my darling. Thank God, Venice abounds in nice little things you can bring back to a young girl. I tried a variety of items, ranging from Venetian masks to Murano glass objects, always making sure that they were locally produced.
One day, however, I came back home with the one souvenir that enchanted my daughter more than anything I had given her before – so much so that she now seldom misses an opportunity to ask me without batting an eyelid: "Mummy, when are you going back to Venice again?"
That highly appreciated souvenir was a pair of yellow furlane, also known as "gondolier slippers".
I had been visiting the workshop of one of our artisans when, on the way back to the Ca'nova Palazzo, I came across a lovely little shop, Piedàterre, which I had never noticed before. Inspired by the colourful window display of velvet slippers, I pushed the door and walked in.
The friendly shop assistant greeted me with a smile and began showing me the wide range of models of their handmade production. She also told me the story of the furlane, which were originally invented under the name scarpez in the mountainous region of Friuli in Northeast Italy. After the Second World War, a family from that area decided to sell these slippers from a little shop on the Rialto Bridge. Because their soles, produced from recycled rubber tyres, guaranteed good stability on wet slippery surfaces, the furlane became an immediate hit with the gondoliers.
Now each time I travel to Venice, I drop in at Piedàterre and buy a few pairs of furlane for my friends and acquaintances. The ones I wear at home have blue and white stripes.

Enregistrer
Enregistrer
Enregistrer