They Are Simply Everywhere!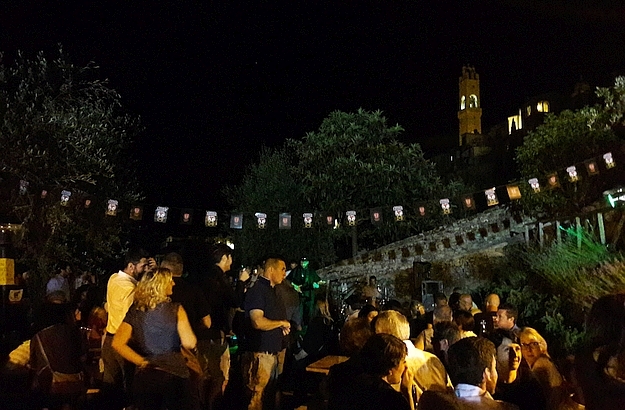 Oh, look Mummy, there's a mosquito sagra around here! Can we go? Pleeeaaase!
This was two years ago, in August. My family and I were leisurely driving through the Italian province of Ferrara, along secondary roads, on our way to our treasured Tuscany.
My daughter was already, at that time, a seasoned sagra spotter and unconditional sagra lover. We were driving down a hairpin bend when she suddenly caught sight, between two yawns, of a colourful poster announcing the Festa mondiale della zanzara, the International Mosquito Fair…
In Italy, a sagra is a local festival which most often involves food one way or the other, and sometimes a sporting event or historical pageant as well. Do you remember the yearly artichoke festival in Chiusure near Siena, which I told you about some time ago in a blog post? This is a perfect example of a typical sagra.
There probably are, in the bel paese, as many sagre as there are towns and villages. The festal season usually starts in the spring with the artichoke and blooming almond tree celebrations, and ends in autumn with untold merrymaking around the chestnut, truffle, porcini mushroom and olive oil.
The menu of a typical sagra generally focuses on seasonal vegetables and local specialties; and dinner is eaten out on the town square or along village roads. The setup is usually unpretentious: wooden benches and tables, disposable plates and cups, and everybody mingles with everybody in a relaxed and friendly atmosphere.
Thanks to our daughter's keen eye, we have enjoyed some of the jolliest sagra nights under the Mediterranean stars, eating and drinking, of course, but also laughing, dancing, listening to great live music and rubbing shoulders with the friendliest locals and travellers.
Oh, look Daddy, there is a snail festival here in Cantalupo! We've never been to a snail sagra! Pleeeaaase!…

Enregistrer
Enregistrer
Enregistrer