My Sweet Tuscan October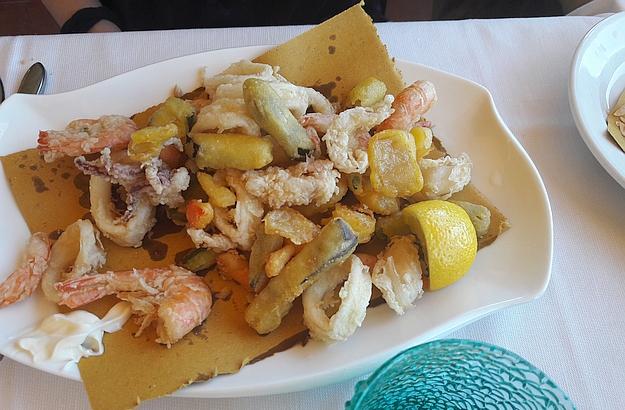 "Designers want me to dress like Spring, in billowing things. I don't feel like Spring. I feel like a warm red Autumn…"
These words – which I can easily relate to – were delivered during the 1950s by Norma Jeane Mortenson, also known as Marilyn Monroe.
A warm red autumn… This is the kind of autumn I love, and the kind I infallibly get on the Italian coast in October, with mild comforting breezes, golden and reddening skies at sunset… And when I combine this with a lovely lunch or dinner in a nice little seaside restaurant, I'm nowhere else than on cloud nine.
Located in the little town of Porto Santo Stefano, on Tuscany's Monte Argentario peninsula, the Da Orlando restaurant changed hands a few years ago. And I had been itching for a while to return there and thoroughly sample their new seafood menu.
It was around noon, two weeks ago. There were mild balmy breaths of wind, clear blue skies with a light touch of amber above the horizon… We first had our Italian aperitivo, amidst the locals, in one of the bars along the sea promenade. From our vantage point we watched the ferries calmly cross the waters on their way to or back from my beloved Isle of Giglio, not far off the coast.
Then we went to have lunch at Da Orlando. We ordered their excellent frittura di pesce along with a dish of seafood pasta, which was gracefully served with some nero di sepia (squid ink). All of this was washed down with glasses of Vermentino, a simple but very good local wine.
After our meal, we went for a long stroll along the harbour, where locals, travellers, amateur sailors and fishmongers were rubbing shoulders in the warmth of the afternoon. Speaking of fishmongers, my favourite one is Da Roberto, recognizable from the blue and white striped curtains.
And there by the Mediterranean Sea, our day finally ended with the most beautiful autumnal evening anyone could dream of. One Marilyn Monroe would have loved to clothe herself in, no doubt…