Florentine Wax Anatomy and Taxidermy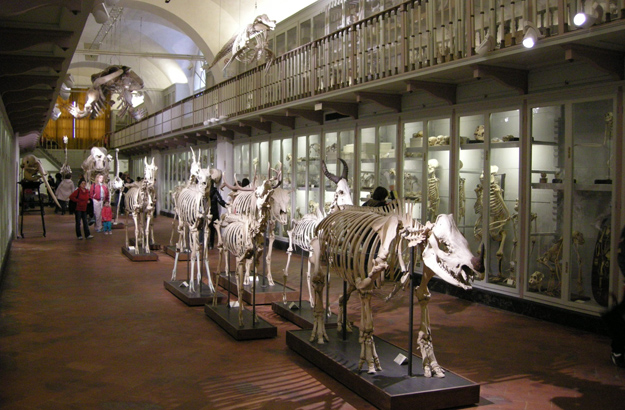 "Hey, look at this one, Mummy! Is that a hippotamus?
– A hippopotamus, darling. Yes, it is.
– He looks angry!
– Well… yes. Or he may just be yawning…"
For my daughter and I, this was our very first visit to La Specola, a jewel of a museum in the heart of Florence. We were lucky enough that day to be accompanied by Gina, a good friend of mine who happened to be well-versed in zoology and natural history, the domains which La Specola is dedicated to. Gina presented us with some additional information on the "yawning hippotamus":
"Our stuffed friend here probably arrived in Florence in the form of a present to Cosimo III de Medici, Grand Duke of Tuscany, towards the end of the 17th century. He was kept in the Medici family's menagerie in the Boboli Gardens, left to paddle in the fountain lying in front of the Pitti Palace. Rumour has it that he was also fed like a dog! In any case, he must have been a marvelous rarity at that time."
Located in one of my favourite areas in Florence, the Oltrarno district, also known as the "Artisan Quarter" – which I told you about, you may remember, in a former article, – La Specola is a fantastic treasure trove as well as a voyage back in time and a real treat for families with kids. It opened its doors in 1775 and most of its interiors seem to stem right from that epoch.
Visitors have access to 34 rooms within the museum, 24 of them being dedicated to zoology and the other 10 to a unique collection of anatomic waxes. The zoological section displays both recently acquired and old examples of taxidermized animals. As for the wax sculptures of human anatomy exhibited in the other section, they may be nothing for the faint-hearted, but they are the pride of the museum. My friend Gina explained to us that they were created in order to teach and learn anatomy without having to lean over real cadavers…
Much to my surprise, my daughter did scrutinize some of the wax sculptures without losing her craving for the ice cream treat she had been contemplating since our arrival at the museum. So after our visit we headed straight for the Piazza della Passera, a lovely square with a Parisian flavour, lying close to the Pitti Palace and where you can find one of the best ice cream artisans in town: the Gelateria della Passera.
You can obtain all the practical information concerning La Specola – location, opening times, entrance fees – by clicking on this link.
So, how about meeting up in front of the stuffed hippopotamus?