Doing the Rounds of the Venetian Bacaris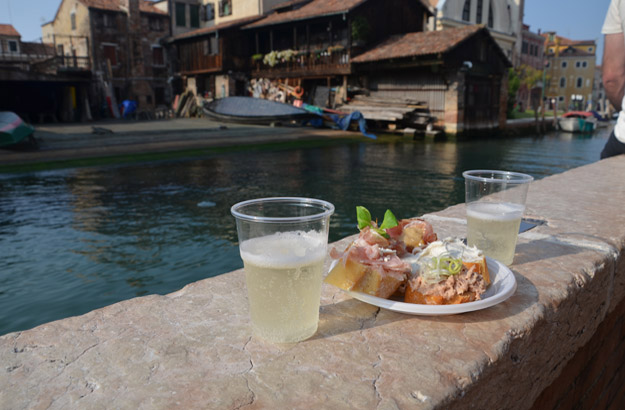 "Well, Anke, I guess we could call it a day, what do you think?"
It was 9:30 pm. Anke and I were still in our Paris office, having worked industriously since the morning hours. She looked at me with her big round eyes:
"Yes, I agree, Katharina. Gee, I wish we had a Venetian bacari just across the street!"
I felt the same. We were both starving to death but too tired to consider a full meal in a restaurant. A small bite to eat and a fresh glass of wine, bacari-style, would have been just fine.
I discovered what a bacari was the day the owner of one of our Trust & Travel villas decided to take me behind the scenic façade of Venice – the Piazza San Marco, Grand Canal, Caffè Florian, Palazzo Ducale… She said to me: "If you want to meet the real Venetians and eventually pass for one – not easy but you can always try – I'll show you the places where you have to hang out."
Having reached an area of the lagoon not yet invaded by tourists, my friend and I dropped by a small local bar, a bacari, that was permeated with a nice cosy atmosphere.
"Here, my friend said, you don't ask for a glass of local wine, but for an ombra. And to go with it, you choose a cicchetto, which is pretty much the Venetian equivalent of the Spanish tapa."
Ombra and cicchetto… Wow, I had just discovered something which I had never heard about before – like a majority of occasional visitors to Venice, mind you. And I was also told that you can have your ombra and cicchetto at almost any time of day or night, like many Venetians do, and even get into the local habit of skipping dinner in favour of a bacari-hopping pilgrimage. It's also a fun way to take sustenance in Venice without having to spend a fortune.
Bacaris are everywhere in Venice; you won't have any difficulty spotting them. But have a look at this map if you want to be sure you'll find the ones that are off the beaten track. Two bacari specialties not to be missed are the codfish-based baccalà mantecato and, a great favourite of mine, the sarde in saor, the recipe of which you'll find on Emiko Davies' excellent food blog.
From our Trust&Travel villas in Vicenza and Padova, Venice is easily reached by public transport. Just hop on a train and less than an hour later you will be in the middle of the enchanted lagoon, ready to do the rounds of the lively and colourful Venetian bacaris…